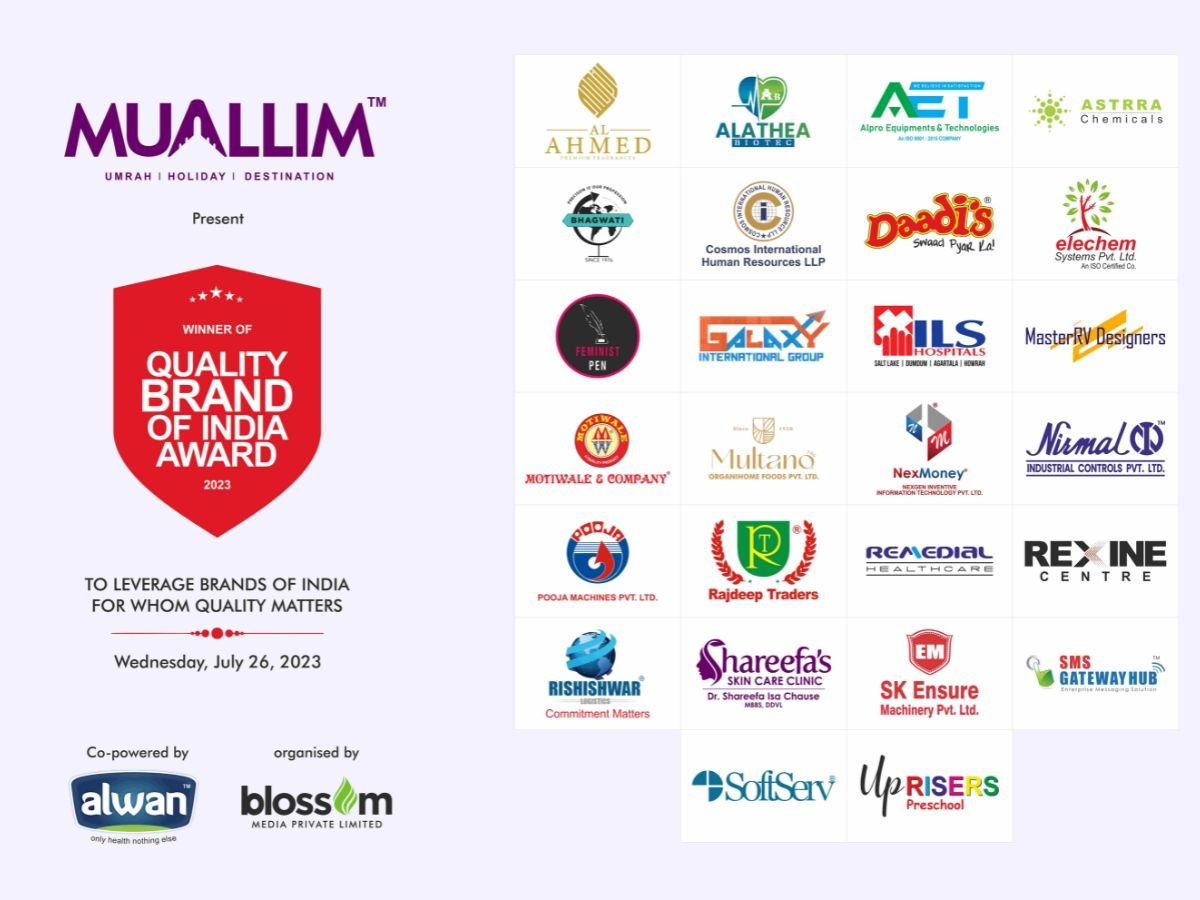 Winners of 1st edition of Quality Brand of India award 2023 announced by Blossom Media
Mumbai (Maharashtra) [India], August 3: The Quality Brand of India award aims to spotlight the achievements of MSME businesses spanning the entire country, commending their significant role in fostering India's development and economy.
Conducted virtually on July 26, 2023, this event was expertly organized by Blossom Media Pvt Ltd, headquartered in Mumbai. The prestigious award was presented by Muallim Tours LLP while Alwan Products LLP, graciously co-sponsored the event.
During this digital ceremony, special recognition was accorded to MSME businesses, which are rightfully acknowledged as the backbone of the Indian economy, for their unwavering dedication and support in bolstering the nation's economic landscape.
Glimpse of winners of the esteemed Quality Brand of India Award 2023, listed in alphabetical order.
Al-Ahmed (Mumbai, Maharashtra) – They prioritize purity, crafting their perfumes by hand. Meticulously blending elements to create captivating aromas, they maintain strict quality control throughout the production process. Offering premium collections at reasonable prices, they also distribute renowned international brands.
Alathea Biotech Pvt. Ltd. (Patna, Bihar) – AlatheaBiotec has got expertise in manufacturing pharmaceuticals and health care products mainly in neurology, joint pain and cardio specific problems. Their products like Colitec-P, Alshine D3, Dizisure have received a great response from health experts and got appreciation from several reputed organization. Their focus is on making available quality pharmaceutical products at affordable costs to all.
AlproEquipments And Technologies (Vasai, Maharashtra) -This distinguished company stands out as a leading Manufacturer and Exporter, offering a wide range of products such as Granulation Section, Ointment Section, Liquid Section, and Soft Gelatin Section. Their exceptional contributions in Manufacturing and Exporting Pharmaceuticals, Cosmetics, Machineries, and Equipment have helped them earned the trust of their clients.
Astrra Chemicals (Chennai, Tamil Nadu) – Renowned for their top-tier products, they stand out as prominent manufacturers, suppliers, wholesalers, and exporters of a wide range of premium Industrial Chemicals, including Construction Chemicals, Antioxidants Chemicals, and Aromatic Chemicals. These chemicals are highly sought after for their precise composition, high purity, and extended shelf life.
Bhagwati Hardware and Mill Store (Delhi) – They are one of renowned organizations engaged in manufacturing, importing, exporting and supplying of a wide range of Precision Measuring Instrument, Quality Control System and Testing Equipment. Their range of equipment is precision engineered and delivers accurate measurement result.
Cosmos International Human resource LLP (Mumbai, Maharashtra) It started in 1984 and has grown exponentially in the last four decades and has become a reputed and renowned name because of their result-driven recruitment expertise in manpower recruitment solutions. The company has been actively involved in providing manpower to clients in the Middle East, particularly Saudi Arabia.
DrShareefa Isa Chause (Mumbai, Maharashtra) – A highly esteemed independent Dermatologist and Cosmetologist, she serves as a visiting doctor at renowned medical institutions like Apollo Spectra Hospital, Criticare Asia Multispecialty Hospital, and Niramay Clinic. Sharing expertise on skin health through leading health portals, her exceptional dedication to Skin, Hair, and Nail Care earned her customer support.
EleChemSystems Pvt. Ltd. (Mohali, Punjab) – Recognized as a rising star in Power Cable Jointing Accessories, they offer top-notch products at competitive prices, ensuring optimal performance. Their clientele comprises Maharatna&Navratna companies, leading corporate brands, and multinational firms in the overseas market. Their dedication to innovation and practicality has earned them many laurels.
Feminist Pen Foundation (Virudhunagar, Tamil Nadu) – Emerging from humble beginnings in India, the internationally renowned non-profit organization, Feminist Pen Foundation, is dedicated to promoting global gender equality among oppressed communities. With a presence in the USA, UAE, and the Netherlands, it has been recognized with the many Awards for its efforts in advocating for human equality, addressing issues of gender bias, racial discrimination, socio-economic structures, and legal systems.
Galaxy International Travels Pvt. Ltd. (Kolkata, West Bengal) – It is a fast-expanding travel company, focusing on tailor-made tours. Their offerings include airline ticket booking, hotel reservations, vacation packages, VISA assistance, transportation, and more. Through their expertise and commitment to excellence, they have established a prominent position in the industry and have been honored with the many awards.
ILS Hospital (GPT Healthcare Ltd.) Kolkatta, West Bengal – GPT Healthcare operates ILS Hospitals, a state-of-the-art Multispeciality tertiary care hospital. With 4 hospitals in total, including 3 in West Bengal and 1 in Agartala, their exceptional contributions to providing top-notch healthcare at affordable prices and ground breaking innovations in curative and preventive solutions have garnered them respectable position in healthcare industry.
Master RV Designers LLP (Mumbai, Maharashtra) – They are specialised in PowerPoint presentations like investor deck, pitch deck, company profile, financial deck. They also create reports, financial reports, and guides in Word. They assist organizations with brand transformations, identity redesign and creating high impact marketing campaign.
Meghraj Food Processing India Pvt. Ltd. (Daadi's) Bangalore, Karnataka – Their brand Daadi's, a prominent ethnic food brand, offering traditional foods manufactured hygienically with modern, convenient packaging. Under exceptional leadership, it has become a renowned name in the ready-to-eat category, providing Kahkra, Ladoos, Fresh Chutney, and premium delights for festive occasions. Its achievements and milestones have earned Daadi'sthe a respectable position in the industry.
Motiwale& Company (Delhi) –This esteemed company has established itself as a leading manufacturer, supplier, and exporter specializing in beads. Their expertise lies in crafting exquisite beads for various applications, including jewellery making and fashion accessories. The manufacturing process is carried out by their skilled craftsmen, ensuring each piece embodies sheer brilliance. They cater to clients across PAN India.
Nexgen Inventive Information Technology Pvt. Ltd. (Pune, Maharashtra) – is a prominent MLM Software Development Service Provider. Their comprehensive solutions encompass web designing, technical support processes worldwide, ERP solutions, industry payroll systems, CRM solutions, Import-Export Management, Government sector projects, and customized software and web development.
Nirmal Industrial Controls Pvt. Ltd. (Mumbai, Maharashtra) – Nirmal, a global leader, excels in manufacturing Self Actuated Pressure Control Valves, Pressure Safety Valves, Tank Blanketing Systems, Fuel Gas Conditioning, Regulating, and Metering Systems. They Cater to major industries like Oil & Gas, Petrochemical & Refineries, Pharmaceutical, Steel & Power, Nuclear Power, etc in India, the Middle East, Africa, and Southeast Asia.
Organihome Foods Pvt. Ltd. (Multano) New Delhi – It is reputable company engaged in the manufacturing and retailing of Cold Pressed Oil, marketed under the brand name Multano. They have ventured into the online market, offering their premium cold-pressed oils. These oils are meticulously prepared with supreme single press technique at their own manufacturing unit, using carefully selected and high-quality ingredients. Multano has earned its reputation as a trusted brand, catering to various needs such as skincare, hair care, and edible oil solutions.
Pooja Machines Pvt. Ltd. (Punjab) – They are into manufacturing of Sewing Machines, Fans, Power Controllers, and Home Appliances. The Company follows stringent quality control measures for the selection of components to be used in manufacturing the products due to which their products have been a preferred choice with state governments, Corporate and other large institutional customers. They have customers in over dozen of overseas countries.
Rajdeep Traders (Chennai, Tamil Nadu) – Prominent distributor, stockist, and supplier of spare parts and accessories for two-wheelers in South India. At the forefront of this enterprise is Rakesh Jain, a visionary leader, who has successfully implemented an innovative, environmentally friendly technology in the automobile sector that not only saves fuel but also preserves carbon emissions. This ground breaking initiative has garnered widespread acclaim and recognition on both national and international stages.
Remedial Healthcare India Pvt. Ltd. (Ambala, Haryana) -Remedial Healthcare, a prominent ISO certified PCD company, is one among India's leading providers of comprehensive range of high-quality products such as injections, tablets, capsules, soft-gels, syrups, ointments, and more for both domestic and international markets.
Rishiwar Logistics Pvt. Ltd. (New Delhi) – Being one of the leading global cargo service providers, they offer a wide array of services, encompassing Ocean Freight Logistics, Air Freight Logistics, Roadways Cargo handling, Custom Clearance, Port Handling, Warehousing, and Import-Export Consultation. Their customised solutions at competitive rates have earned them the trust of clients.
Rexine Centre (Mumbai, Maharashtra) – Founded in 2001 and currently led by the second generation's visionary, Mohammad Farhan Khan, Rexine Centre has distinguished itself as a trailblazer in the furnishing industry. Their area of expertise lies in crafting high-quality Sofa cover clothes, setting new trends in the market. With multiple branches in Mumbai, their products are readily accessible to customers across PAN India, showcasing their widespread presence and popularity.
SK Ensure Machinery Pvt Ltd (Faridabad, Haryana) – They are a prominent manufacturer and exporter of exclusive range of Screen Printing Machine, Round Screen Printing Machine, Pad Printing Machine, Offset Printing Machine and many more. Offered machines are highly preferred by the clients, across the globe, USA, UK, Canada, Australia, Dubai, Middle East, etc, for their sturdy construction and optimum performance.
SMSGATEWAYHUB Technologies Pvt Ltd (Indore, Madhya Pradesh) – Founded in 2009, the company has grown exponentially to become one of the leading providers of digital media solutions to the clients spread across PAN India. They are specialised in providing, both personalised and customised, bulk SMS services, and have served individuals, various industries and some of the leading corporate companies in India.
Softserv Solutions Pvt. Ltd. (Jaipur, Rajasthan) – Softserv is a forward thinking technology company that assists enterprises in reimagining their businesses for the digital age. Their expertise extends across key industries including healthcare, Oil & Gas, Automobiles, and Dental etc. Their integrated portfolio of products, solutions, and services provides clients with comprehensive offerings that address their unique business needs.
UpRiser Pre School (Pune, Maharashtra) – It is an organization that aims to provide a holistic education for kids aged 2 to 7 years for their cognitive and academic development. GurujiShri Rishi Prabhakar is the main inspiration behind Uprisers Preschool. It endeavours to evolve a unique way of learning that adopts an eclectic approach by selecting the best from renowned and established education systems.
Blossom Media is venturing on organising realty exhibitions, titled as "Indian Property Show, Jeddah," in Saudi Arabia. This strategic step seeks to facilitate Indian real estate developers to establish connections with High Net Worth Individuals (HNIs) of Indian origin residing in Saudi Arabia. This initiative not only presents an investment prospect for the HNIs but also creates a platform for Indian developers to engage in a mutually advantageous collaboration.