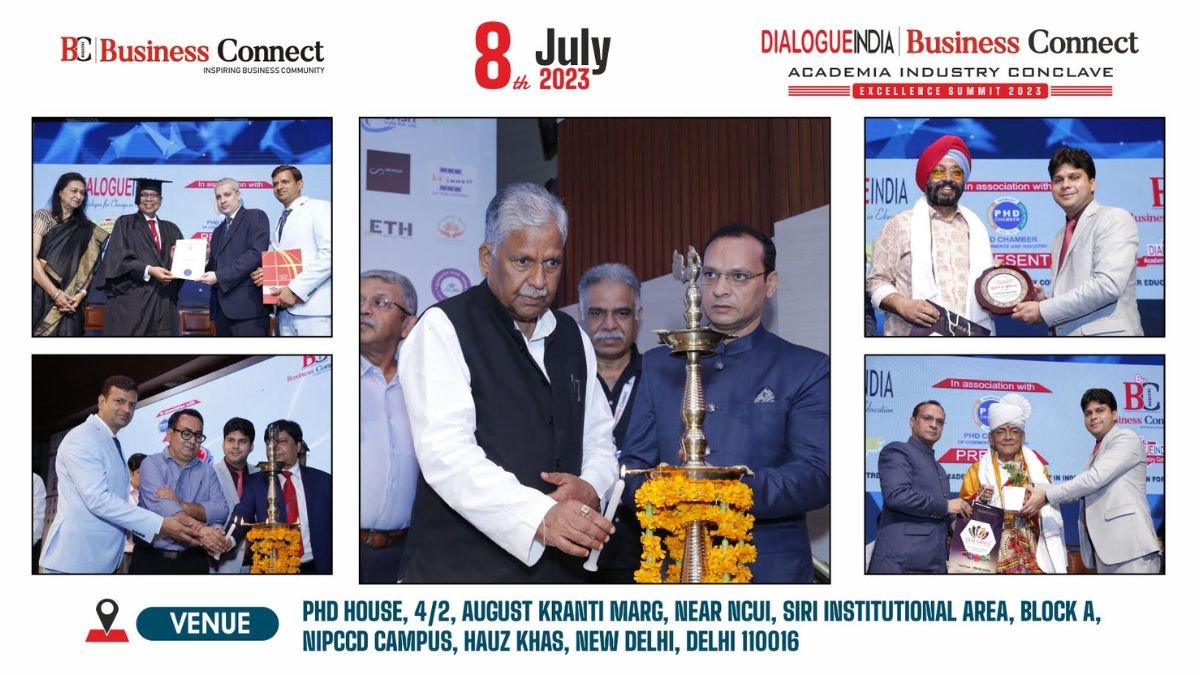 Untying minds, driving change together
New Delhi (India), July 26: We are overjoyed to announce that the Academia-Industry Conclave, organized in collaboration with Dialogue India and Business Connect, took place at the prestigious PHD Chamber in HauzKhas, New Delhi, on 8th July 2023. The gathering witnessed an unprecedented turnout of esteemed dignitaries representing the Government of India and various renowned institutions, marking it as a significant milestone in fostering the growth of academia and industries in the country.
Academia-Industry Conclave provided a strong forum for thought leaders, specialists, and visionaries from both industries to come together and talk about how to coordinate their efforts to spur innovation and progress in the nation. The event successfully fortified relationships between the bigwigs from academics and industry by facilitating sharing of ideas, information, and skills and ultimately producing significant answers to society's problems. We just so happened to bring together a varied group of important players, from prestigious institutions to high-ranking government officials. This convergence is evidence of our shared commitment to encouraging innovation and maximizing our individual and collective capabilities for the benefit of society.
As per one of the respected dignitaries, "Such collaborative endeavors have the potential to revolutionize our nation's progress and drive transformative change across sectors. Together, we can cultivate a culture of innovation, creating an ecosystem where knowledge and entrepreneurship thrive hand-in-hand."
The distinguished meeting focused on the untapped potential for cooperation in a range of industries, including R&D, technology transfer, skill development, and entrepreneurship. Additionally, it gave startups and new businesses a reliable platform to network with established companies and obtain crucial advice from mentors as they grow their businesses.
The tremendous success of the Academia-Industry Conclave has laid the groundwork for upcoming engagements that promise to build on the momentum created by the event. It was a prime example of Dialogue India and Business Connect's dedication to enabling India's academia and business community to collaborate effectively and open the door to a successful and forward-thinking future.
Also, the event witnessed an enthralling award ceremony, adding an extra layer of excitement and celebration to the Academia-Industry Conclave. Distinguished winners from the business realm, who had demonstrated exceptional achievements and innovation, were honored with prestigious awards. The honorable dignitaries representing the Government of India and other recognized institutions graced the stage to present the awards personally, further elevating the significance of the recognition.
As each recipient walked up to the stage, the atmosphere brimmed with applause and admiration for their outstanding contributions. The winners' accomplishments, ranging from groundbreaking startups to established industry leaders, were acknowledged for their significant impact on their respective sectors as well as society.
About Business Connect Magazine
Business Connect is a well-known media house in India providing insightful analysis and knowledge to help companies succeed in a variety of industries. The magazine is motivated by its publisher and CEO, Abhishek Kumar Dubey, who has a vision to create waves of change across the media sector significantly. The knowledge and dedication of its seasoned writers, editors, and journalists, who regularly produce top-notch content, are responsible for its exceptional successes.
Business Connect Magazine takes pride in its open editorial approach, which guarantees the highest level of accuracy and dependability. Readers may be confident that the information they get has undergone extensive review and is of the greatest caliber.
We offer a variety of online tools in addition to print and digital editions, such as a user-friendly website and active social media platforms. These online resources give readers constant access to the magazine's content as well as extra information and frequent updates.
Last, but not least, we extend our heartfelt felicitations to all the winners out there and wish them many more successes in their future pursuits:
| | |
| --- | --- |
| Company Name | Award Category |
| Cambridge Montessori Preschool | The Best Pre-School Chain of the Year 2023 |
| Winwall Technology India Private Limited | The Most Authentic Laboratory India's leading Facade, Fire and Hardware Testing Laboratory |
| Onextel Media Private Limited | Top Most Telecommunication Services Provider to Watch 2023 |
| Quality Hub India | Best Lean Six Sigma Training Platform – 2023 |
| Digital MarkEthics | India's Renowned Digital Marketing Services Provider to Watch – 2023 |
| Adorish India Private Limited | One of the Best 3PL Warehousing Companies in 2023 |
| DhartiamritEcoservices Jaipur | The Most Dedicated Team Creating Astonishing Native Wild Forest |
| JSSB LEGAL (OPC) PVT. LTD. | The most promising law firm of the Year 2023 |
| Uptitude Cloud Pvt. Ltd. | Topmost Risk Management Company to Watch – 2023 |
| KBE JUDICIARY COACHING & ACADEMY | BEST COACHING FOR JUDICIARY & LAW EXAMS PREPARATIONS |
| GANESHWARA COMMERCIAL LLP | Emerging Startup Company to Watch 2023 |
| SQUAD SYNERGY PRIVATE LIMITED | The Most Promising startups to watch 2023 |
| ZOYLEE WEB SERVICES PRIVATE LIMITED | Best Online Platform for Grooming Services |
| Judge India Solutions Pvt. Ltd. | Most Inspiring Business Leader to Follow in 2023 |
| Judge India Solutions Pvt. Ltd. | Most Trusted IT Enterprise to Watch Globally 2023 |
| Firmus Worldwide Logistics Pvt Ltd. | The Most Promising Logistic Services Provider to Watch in 2023-24 |
| Sanyukta Singh Design Studio | Best Coaching Institute for Design Entrance Exam |
| GDP Solutions Private Ltd. | Global Business Leader in delivering IT Services for the year 2023 |
| COMP-POINT SYSTEMS (INDIA) PVT LTD | Admirable Educational Labs Provider Company in India – 2023 |
| Aeroqube Technologies Private Limited | Customer-Centric Software Solutions Provider Company – 2023 |
| ETH Infra Pvt Ltd | Fastest-Growing Real Estate Company in India – 2023 |
| Otrinee India Pvt. Ltd | Innovative Green Electronics Manufacturing Company in 2023 |
| PROPERTY MART | Trusted Property Consultant in Noida Region – 2023 |
| G Multi Trading and Services | Business Leader Of The Year 2023 In Finance Sector |
| ESS ARR METAL INDUSTRIES | Most Reliable Manufacturer for Heavy Steel Fabrication |
| Infinilex Consultancy Private Limited | India's Renowned Platform for Company Legal and Compliance Services |
| Lizm Technologies Private Limited | Result-Oriented Digital Martech Company to Watch-2023 |
| Interra Information Technologies(I) Pvt. Ltd. | "Great Place to Work – Employees Choice" -2023 |
| Henry Harvin Education. | Education Entrepreneur of the Year |
| GNIOT Institute of Management Studies -GIMS, Delhi /NCR, Greater Noida | Excellence in Educational and Corporate Connect – Placements 2023 |
| ClaimBuddy | Excellence in Streamlining Health Insurance Claim Processes 2023 |
| Council of International Languages | THE LEADER BEHIND THE ADMIRABLE ORGANIZATION 2023 |
| SRM Institute of Science and Technology | The Most Promising Educational Institution in India 2023 |
| AOTSUM InfotechPvt Ltd | MOST INNOVATIVE AUTOMATION SOFTWARE AND MOBILE APP DEVELOPMENT COMPANY OF THE YEAR 2023 |
| MorlatisEquiffin Private Limited | Excellence in Securitisation and Structured Finance |
| KURAPATI NEELIMA – Digital strategist | Digital Strategist of The Year 2023 |