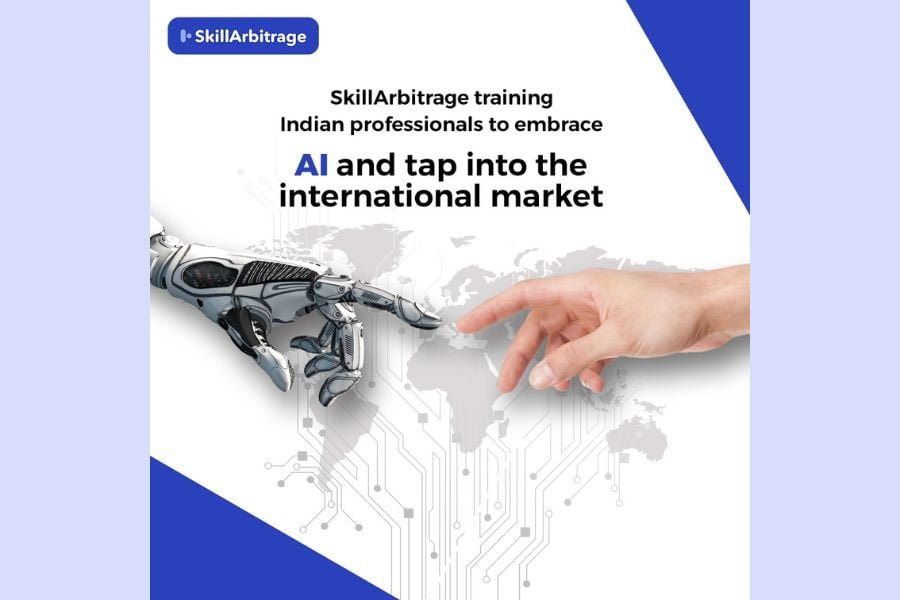 Skill Arbitrage training Indian professionals to embrace AI and tap into the international market
Gurugram (Haryana) [India], July 21: AI tools are changing how work is done across the world. Demand for professionals who can work with AI tools is growing exponentially.
There is also a growing trend of SMEs and startups in developed countries leveraging remote talent from developing countries who deliver work at a much lower cost.
Can mid-level and senior professionals in India learn AI tools and get international remote jobs?
Gurgaon-based edtech startup SkillArbitrage is making this happen already.
SkillArbitrage is of the belief that international exports of services will leave exports of goods behind by miles in the years to come and has thus curated courses that fill in the skill gap and enable professionals to benefit from global talent arbitrage.
SkillArbitrage launched a version of their AI tools program for work-from-home women who had to leave the industry for personal and family reasons to enable them to work remotely on global opportunities. Within 3 months of the commencement of the 6 months program, 8% of the learners have already bagged remote jobs, part-time and full-time, while some of them are developing their profiles as freelancers.
KumudiniSaxena from Ghaziabad, a Skill Arbitrage learner, faced many problems in her career and shut down her business due to COVID because of maternity, is now working remotely from home for international clients as a recruiter and has earned 17 lakhs in 3 months and has 15 clients in Poland, Japan, Jordan etc.
Similarly, ShailajaPrabhakar, who was earlier working in Chennai for a big company, had to move back to her hometown in Vellore for personal reasons and needed to work in remote jobs. She secured a remote opportunity with a US-based company in North Carolina and also doubled her salary in 3 months!
"We at SkillArbitrage, believe that talent arbitrage is the great equalizing force in the global economy. It gives everyone, regardless of their location or background, the opportunity to compete for the best opportunities. This means that businesses can now compete on a level playing field with respect to global talent access, regardless of their size or location, and professionals can compete for the best of the jobs that are available anywhere in the world. This is definitely going to require skills, and we want to train people to be ready for what the future holds for them," says Ramanuj Mukherjee, CEO of SkillArbitrage.
SkillArbitrage trains professionals from India and other developing countries to get international remote jobs, remote internships and freelance work from startups & SMEs in the US, UK, Canada, UAE and other advanced economies so that they can earn in dollars no matter where they live.
With more businesses around the world seeking remote workers because they can access a better talent pool at a fraction of the cost, it has become increasingly important to help Indians identify, prepare and pitch for these cross-border career opportunities.
Skill Arbitrage courses and placement support have been especially popular with housewives and mothers of young children, senior professionals looking for side gigs and extra income, digital nomads looking to escape office cubicles and those living in smaller cities who cannot move to metros to find jobs.