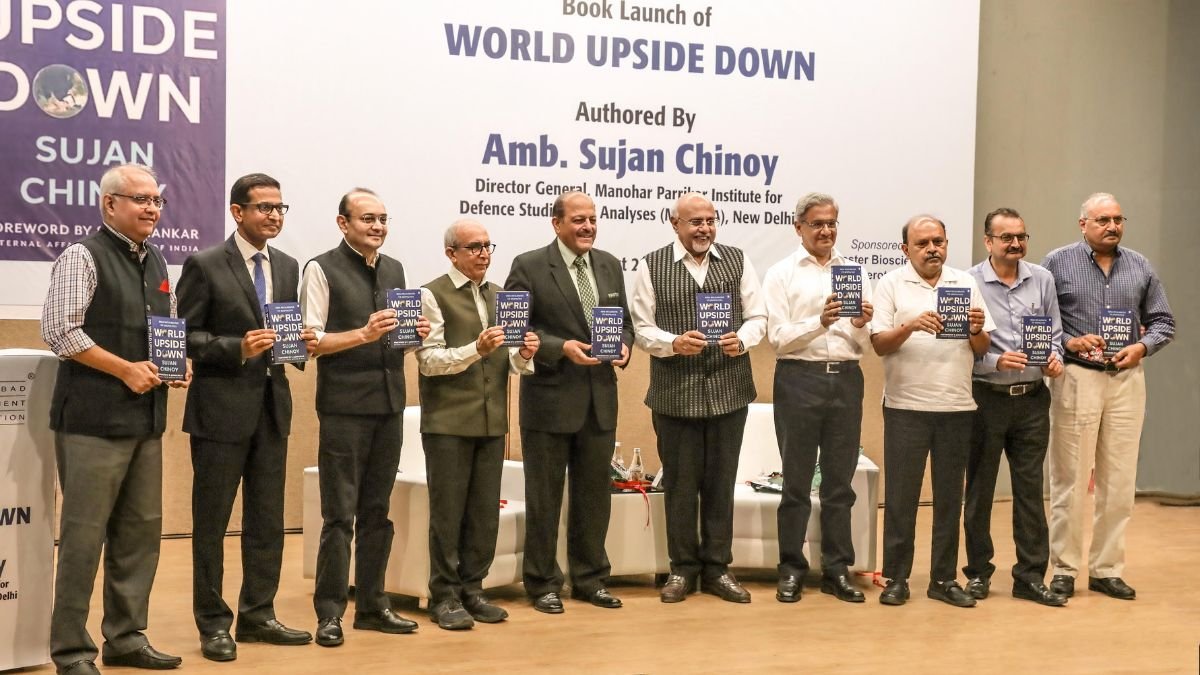 Release of the Book 'WORLD UPSIDE DOWN' by the author Ambassador SujanChinoy
New Delhi (India), September 4: Ambassador SujanChinoy, Director General of the Manohar Parrikar Institute for Defence Studies and Analyses New Delhi released his book 'World Upside Down: India Recalibrates Its Geopolitics' at the Ahmedabad Management Association.
The function was held at The J B Auditorium at AMA at a full house event, normally never seen at book launches.
Attendees included AMA members, students, journalists, industrialists, businessmen, professionals, Ambassador Chinoy's school (The Rajkumar College Rajkot) and college friends from his days at BK School of Business Administration at Gujarat University (considering he is from Rajkot, Gujarat), and many others.
The foreword of the book is written by Shri S. Jaishankar, External Affairs Minister of India.
About the book:
After oscillating between multipolarity, bipolarity and unipolarity over the past decades, the world is back to a multipolar moment, with the US, China and Russia forming significant poles in global power play. Power is fractured today and new permutations and combinations are playing out. The pandemic and Russia's war in Ukraine have added to the fragility of global consensus.
This is therefore an extraordinary time for India to find its moment in the geopolitical sun. Will it play to its strengths and rise on the global stage? Or, will it remain in historic alliances? In this insightful new book, SujanChinoy brings his considerable diplomatic expertise to bear on the key question – how is India recalibrating its strategic thinking to make sense of a world that often, and increasingly, seems upside down?
AmbassadsorChinoy's talk at AMA
In his talk, Ambassador SujanChinoy spoke of India's emergence as a major power over the last nine years under a dynamic leadership. India is no longer just a bystander but is now shaping global outcomes. Under PM Narendra Modi, India has emerged as a powerful voice of the Global South/developing countries as seen from India's Presidency of the G20. India has also taken robust steps to secure it's sovereignty and territorial integrity against China, and has shown zero tolerance for terrorism, including from Pakistan. India's rise benefits the world as it grapples with diverse challenges ranging from the supply chain disruptions caused by the Ukraine war to climate change etc. India is at the forefront of promoting Sustainable Development Goals of the UN, particularly gender equality, Lifestyle for Sustainable Development (LiFE proposal of PM Modi), creating transparent and accessible digital public infrastructure etc. These are areas where India has taken the leadership at the global level, in addition to providing a values based future for humankind.
Excerpts from the endorsements:
"Vividly describes a world in flux in which India, a rising power, must contend with unprecedented geopolitical challenges and crises." – M.K. Rasgotra, former Foreign Secretary of India
"An indispensable reference work for scholars and practitioners alike providing a rare and lucid perspective that is uniquely Indian." – Shyam Saran, former Foreign Secretary of India
"SujanChinoy has made a profound contribution to India's defence and national security community. Few have had a diplomatic career as wide as he, taking in Asia, the Gulf, Latin America, the US, and the UN." – Kevin Rudd, former Australian Prime Minister
"A striking reminder of how artful diplomacy will be essential for the success of India's grand strategy amid the persistent challenges surrounding it." – Ashley J. Tellis, Tata Chair for Strategic Affairs, Carnegie Endowment for International Peace
"Deep insights into the shifting geopolitical terrain…throws light on India's effort at reorienting its foreign and security policies". – C. Raja Mohan, Asia Society Policy Institute