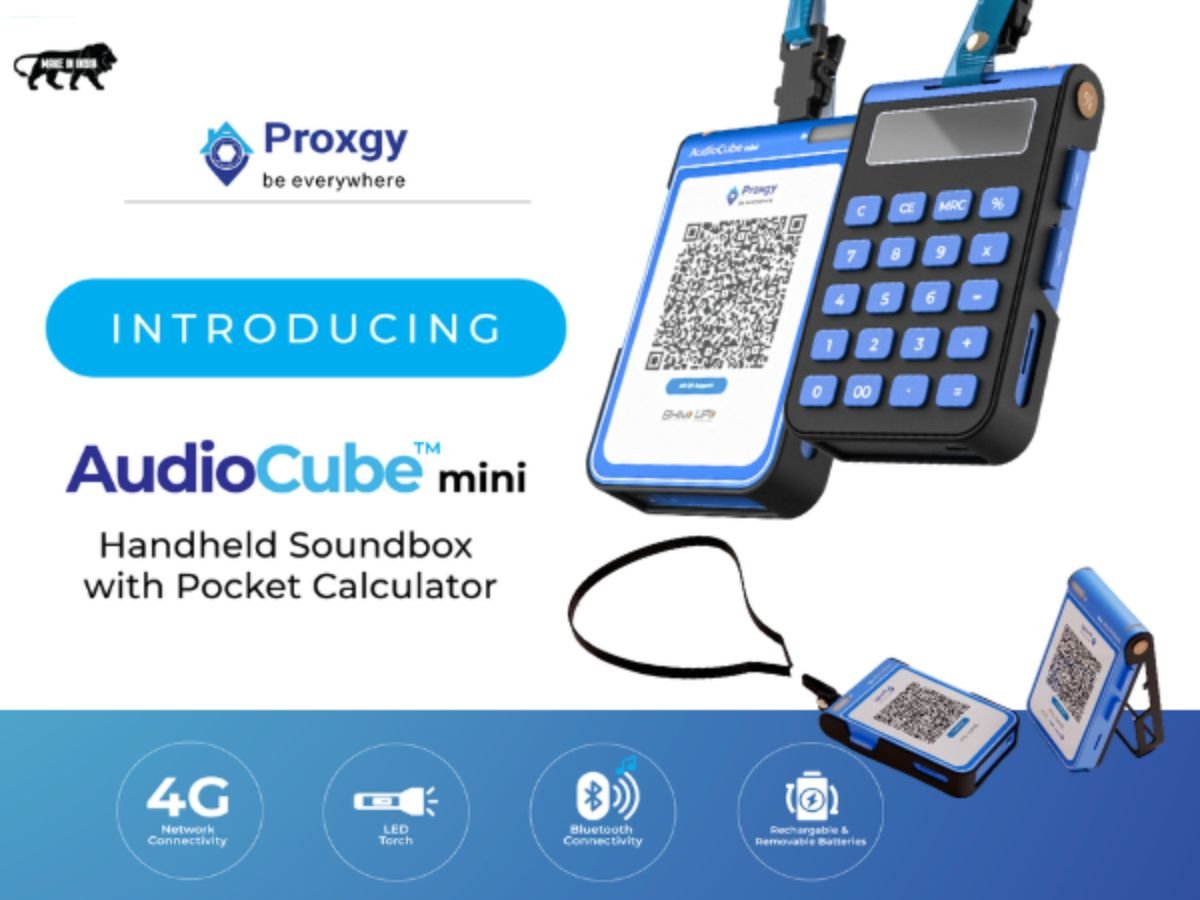 Proxgy Unveils 'Make in India' Audio Cube Mini for FinTech & PSU Banks
New Delhi (India), August 4: Indian startup Proxgy (Everywhere as a Service Pvt. Ltd.) has introduced its latest creation, the AudioCube™ Mini, a pocket-sized sound box designed to cater to the needs of the FinTech sector and public sector banks. This compact device, which operates on 4G connectivity, extends Proxgy's existing line of AudioCube™ sound boxes and boasts several novel features.
The AudioCube™ Mini stands out with its sleek design and a range of functionalities. Equipped with dual MEMS speakers, it delivers high-quality surround sound for notifications and Bluetooth music playback. A distinctive aspect of the device is its patent-pending triangle stand design, which transforms the pocket-sized sound box into an on-shelf unit, making it versatile for various applications, including night travel on bicycles. Notably, the device caters to remote regions of India by offering an option to operate on rechargeable and removable AAA battery cells, ideal for situations where USB charging isn't readily available, aligning with the move towards a cashless economy.
PulkitAhuja, Founder and CEO of Proxgy, emphasized the innovative aspects of the AudioCube™ Mini during its launch. He highlighted the device's adaptability, stating, "The AudioCube Mini also features a patent-pending design which enables it to be used like a handheld pocket device with neck straps or lanyard that can easily be converted to a shelf top device by swivelling the convertible stand."
Proxgy is a prominent player in the Indian B2B landscape, serving major FinTech companies and PSU banks with locally produced payment confirmation devices. The AudioCube™ Mini falls within their wider suite of products, including the 'Assist.Live' platform, which powers offerings like SmartHat® Smart Safety Helmets, Sleefe® Smart Cap conversion devices, and Lockator® Smart locks.
The company's trajectory is impressive, having secured a confirmed order book of over INR 35 crores within just six months of launching the AudioCube devices. The initial iteration of these sound boxes was showcased on national television through Shark Tank India, Season 1, where Proxgy garnered significant attention and funding.
Beyond its local success, Proxgy has also made waves on an international scale. The company was declared winners at GITEX Africa, the continent's largest tech and startup event, where they showcased an innovative ecosystem aimed at empowering blue-collar and industrial workers across sectors.
Proxgy (Everywhere as a Service Private Limited) is headquartered in Gurugram and is a pioneer in the development of wearable IIoT (Industrial Internet of Things) devices. Their flagship product, the SmartHat®, revolutionizes worker safety by integrating cameras and sensors to detect falls, gas leaks, sound levels, and environmental hazards. The gathered data is seamlessly transmitted to a portal that generates automated reports, enhancing safety and connectivity for a wide range of workers. Alongside the AudioCube™ Mini, Proxgy offers a suite of cutting-edge products designed to enhance various industrial processes.