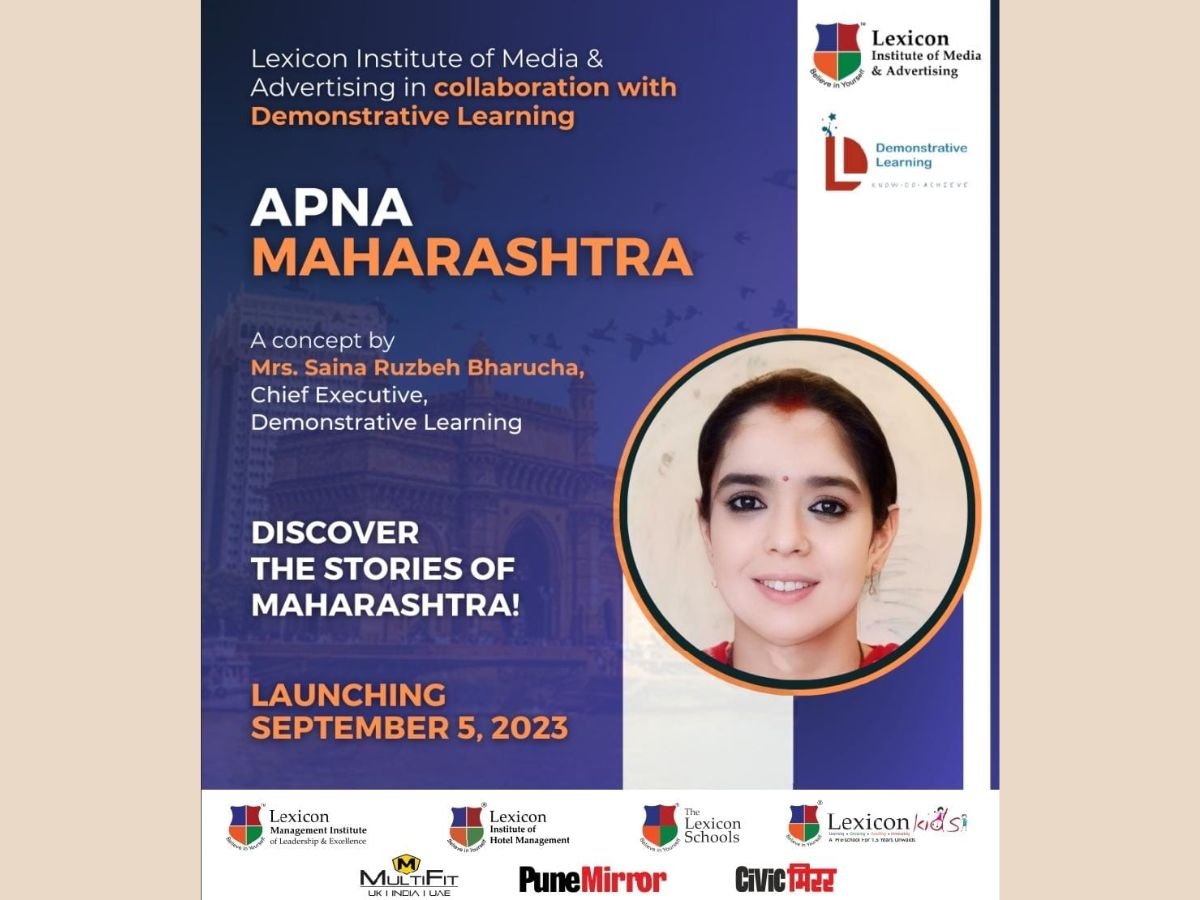 Introducing "Apna Maharashtra": The Untold Stories of Inspiration and Culture
Pune (Maharashtra) [India], August 25: Lexicon Institute of Media & Advertising collaborates with the visionary Ms. SainaRuzbehBharucha, renowned philanthropist, and leader, for a captivating new podcast and video series set to take audiences on an inspiring journey through the heart of Maharashtra. Titled "Apna Maharashtra," a concept thought and curated by Ms. SainaRuzbehBharucha, this series promises to shed light on the untold stories that have shaped the rich cultural tapestry of the state.
As the Permanent Trustee of the India Vision Foundation, Chief Executive of Demonstrative Learning, and the Vice President of Navjyoti India Foundation, Ms. SainaRuzbehBharucha brings a wealth of experience and passion to the creation of "Apna Maharashtra." With a deep-rooted commitment to empowerment and education, Ms. Bharucha envisions the series as a platform to celebrate the lesser-known narratives that have contributed to Maharashtra's vibrant heritage.
Ms. SainaRuzbehBharucha expressed her enthusiasm for the project, stating, "I am thrilled to embark on this exciting journey with 'Apna Maharashtra.' Our state is brimming with remarkable stories of resilience, innovation, and cultural richness. Through this podcast and video series, we aim to bring these stories to the forefront, inspiring generations and fostering a stronger sense of unity."
Supporting this endeavor, Mr. NasirShaikh, Group CEO of The Lexicon Group of Institutes, EasyRecruit+, EduCrack, shared his thoughts on the importance of showcasing Maharashtra's culture. "The essence of a region is embodied in its stories and traditions. 'Apna Maharashtra' will serve as a conduit for preserving and sharing these invaluable aspects of our heritage. We are proud to be part of this collaboration and look forward to witnessing the positive impact it will undoubtedly have."
With an esteemed partner like the Lexicon Institute of Media & Advertising, the series is poised to achieve unprecedented heights. Ms. Dipta Joshi, Principal of the Lexicon Institute of Media & Advertising, emphasized the institute's commitment to the project. "We are excited to collaborate on 'Apna Maharashtra' and contribute our expertise in media and advertising to bring these captivating stories to a global audience. This initiative aligns perfectly with our mission to cultivate meaningful content that informs, engages, and inspires."
"Apna Maharashtra" is scheduled to launch on September 5, 2023, with episodes available on social media and YouTube channels. Audiences can anticipate a series that delves into the lives of remarkable individuals, historical events, and cultural phenomena that have shaped Maharashtra's identity.