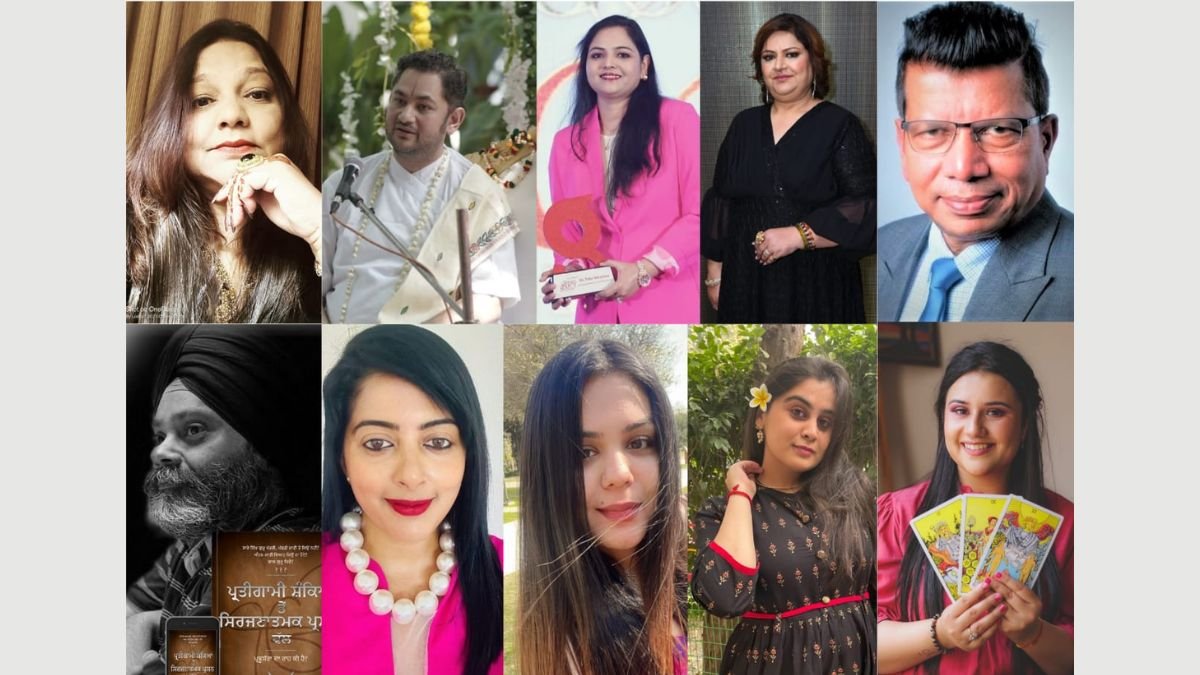 Inspiring Torch-Bearers: Illuminating the World with Their Brilliance
New Delhi (India), July 29: Meet exceptional individuals from diverse fields, each a true torch-bearer, guiding the world around them. These goal-driven, disciplined, and focused celebrities shine as guiding lights, ruling their domains with brilliance. From trusted tarot readers to dedicated Pediatricians, their stories of empowerment and impact will inspire and uplift readers. 
1) LeenaThawani
LeenaThawani, The Tarot Reader is a National Fame Award Winner for the most Trusted Tarot Reader & Healer. Through years of study, practice, and intuitive development, she has honed her skills to offer accurate and insightful readings. The Tarot cards serve as a powerful tool, unlocking the mysteries of the past, present, and future. With each shuffle & draw, she taps into the cosmic energies and connects with the divine realm and delivers predictions that resonate deeply with each individual. She is confident in her Tarot predictions stems from a deep understanding of the cards and a genuine desire to guide and empower those seeking clarity and guidance. For more details, you can check out her details on Instagram (healings_from_within)
2) AcharayaPundrikGoswami
AcharayaPundrikGoswami is from the blessed lineage of the famous GaudiyaVaishnavaParampara in ShriRadha Raman temple Vrindavan, Mathura. He is the Grandson of the Famous Saint ShriAtul Krishna Goswami& son of the famous Bhagwat orator ShriShribhuti Krishna Goswami. Maharaj Sri is the 38th Acharya in the lineage of GaudiyaParampara. ShriPundrikGoswamiji has been an influential Spiritual Motivational Speaker since his childhood. He has recited ShrimadBhagwat Katha, Shri Ram Katha, ShriChaitanyaCharitamrit Katha, ShrimadBhagwatGeeta and he also gives Motivational speeches at Different Platforms like educational institutes, MNCs and Ted, etc in India as well as outside India. He is much loved by youth for his Motive is to Make Youth aware of the Religious and Devotional heritage of India and his teachings are mainly based on balancing between one's Material and Spiritual life.
3) DrNehaSrivastava
DrNehaSrivastava, who is a Pediatrician and Neonatalogist working with Rosewalk (Rainbow) Hospitals, South Delhi has recently been awarded as 'The most promising Pediatrician ' at an award function in Mumbai for her research work on the subject of – 'Perinatal depression in mothers with sick babies in NICU '. She has also represented the Indian Pediatrics Association with her research papers on International forums several times in Paris and Dubai and has been awarded as an eminent speaker on various significant Neonatology topics. Besides working as an eminent Pediatrician, she runs an NGO named Arrpann along with her father which helps many underprivileged children get vaccinations and medications. She organizes camps on a regular basis in government schools and also slum areas where she teaches children about good & bad touch awareness. She has been doing tremendous significant work towards the prevention of child sexual abuse especially in slum areas.
4) AlkaBakshi, Tarot Reader
In a day and age when a renewed interest has been witnessed in the field of Tarot reading, the name of Ms. AlkaBakshi as one of the most noted and adept names in this category has certainly come as no surprise. With immense expertise in the field of Tarot reading and clairvoyance, what also sets Bakshi apart is the personal touch that she gives to all her clientele; treating them as family.
Awarded the National Fame Award 2023 by Bollywood actor, EshaDeol, for her commendable professional work, Bakshi has been invited to several conferences and seminars to share her expertise on her subject matter, allowing her to communicate with several like-minded individuals and eventually assisting them in finding their purpose in life.
With an experience of over 20 years in the field, AlkaBakshi is certainly a name to be reckoned with.
5) Dr. BanaKamila
Heart-IN-Heart voices passionate emotions in 81 poems, extraordinaire, including the power-packed hooks nibbed by Dr. BanaKamila with KiranmalaLaishram. It's an image of Dr. Kamila's enterprising and literary brilliance, without the boundaries, where he is or was at a point on the 0 to – ∞ or 0 to + ∞ poetic path.
The book is a poetic virtuoso of Two-Hearts' heart-touching collision. That could infuse the readers' feelings to feel the bonding in expressing, unlocking, and adoring… lovers' love, the universally supreme currency. But the power of currency could make or break, Two-Hearts.
That's the book! That power fires the feelings for love and for loving — the good, the better, the best…, and the ugly – as collided Two-Hearts' intoxication could be crazy… craziest.
Readers! That's the ecstasy you could feel. I'm sure, you don't want to miss…
6) Gurpreet Singh GP
Gurpreet Singh GP has come up with a book full of original ideas in Hindi and in Punjabi, titled 'PratigaamiSandeh Se SrijnaatmakPrashnkiAur,' translated as 'From Enslaving Doubts To The Creative Question'. Singh says- "It was during KisaanAndolan, I realized there's hardly any good books written for Hindi readers that can help them to learn more so that their interest towards Sikhi sustains." The book deals with a range of doubts about Sikh History and theology. Such sensitive questions are taken head-on and are referred to as enslaving doubts. The author finds them a distraction from the goal of human sovereignty. The reasoning is given in four ways, forming the four sections of the book: Ideological Aspect, Societal & Cultural Aspect, Historical Aspect, And Their Aspect.
7) Dr. PreethiAmaresh
Dr. PreethiAmaresh recently graduated with a Doctorate in International Relations (DIR) from the Geneva School of Diplomacy, Switzerland. Her Doctoral thesis was on "India's soft power: State and civil society Interaction". She has also authored 4 books with the recently released book titled "Namastey Bharat: Churning the Soft Power Treasure of India". She also recently established the "Roaring Tiger Foundation" (RTF) with her co-founder Dr. AsifIqbal who is the President of the Indian Economic Trade Organization (IETO). Amaresh will soon represent RTF in New York and has big plans to expand RTF chapters in other countries that will support enhancing the "Soft Power of India" in the coming years.
8) RusshveenUbann
RusshveenUbann is a tarot reader, healer and relationship coach. She's known for her precise accuracy and on-point intuitiveness. She doesn't believe in sugarcoating and is very honest and upfront with her predictions. She's currently practising Numerology and Past Life Regression too. Russhveen is also the author of two poetry books: 4 am Words and Crush(ed) which are touching hearts worldwide.
9) Author ShambhaviMehrotraKapoor
Author ShambhaviMehrotraKapoor is a master's in law, a successful businesswoman, and a lifestyle blogger. Escaping the routine to spend time writing stories and reading Indian Scriptures is what she loves the most. Her upcoming debut solo book: The stories of Ekadashi, is on its way to be released this month, and will be a part of her Indian Ideology series of books.
Shambhavi focuses on the logical beliefs of Hinduism and how they relate to our daily lives. She writes about promoting these interpretations and glorifying Hindu ideology and is known for her clear way of thinking and her unique ability to describe.
10) ReshamKamboj
ReshamKamboj, the founder and CEO of Tarot –Tree of Life Academy, has earned a reputation as India's top spiritual healer and fortune adviser. She believes in a greater force in life and claims that because she is the granddaughter of an astrologer and the daughter of a tarot card reader, she was chosen to walk this route.
Resham recently spoke on the prestigious platform of TEDx and explained how grades don't define our fortune, and how we should choose the profession that we like and not under peer pressure. Her talk was quite encouraged and soon will be out on YouTube.