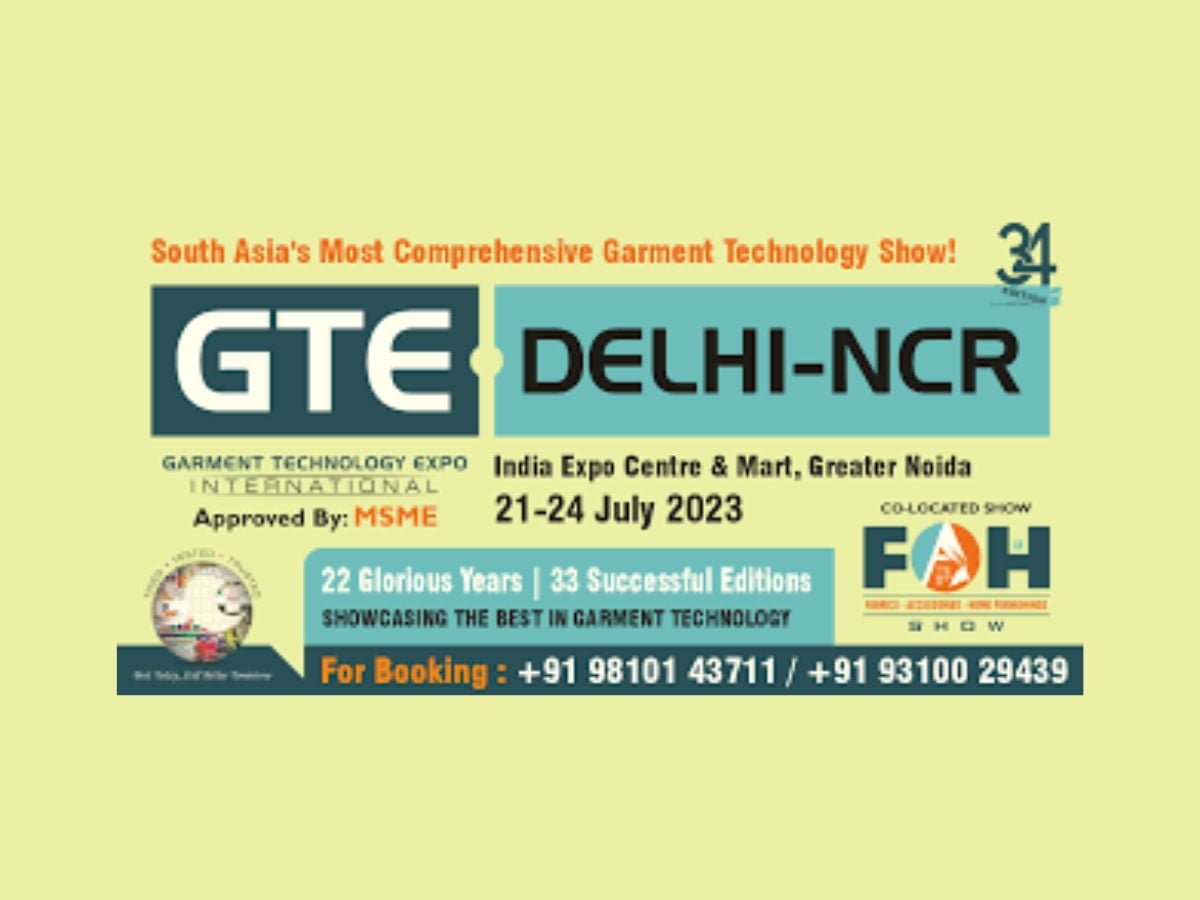 Garment Technology Expo 2023: Uniting Over 550 Classy Brands in Delhi/NCR's Fashion Hub
Over 550 brands to showcase at GTE 2023
New Delhi (India), July 20: The garment industry has always played an important role in the industrial and economic development of our States of Delhi/NCR. The garment sector has seen rapid growth in the last few years and still holds tremendous potential for growth in today's era. Over the years, Noida, UP has made rapid progress andis among the fastest growing garment hubs of the country. In fact, over the last decade, a number of integrated garment & knitting units, supported by world class processing and printing have come up in the area. There are over 3,500 manufacturing units in the region of Noida and Greater Noida. The Noida Apparel Exporter Cluster (NAEC) has taken the initiative to sign a MoU with Yamuna Expressway Authority for 200-acre land for a proposed Apparel Park. Also there is a big need for the existing textile units here to upgrade itself with the latest technological developments taking place worldwide.
The current supply and demand factors provide very conducive and favourable environment for the technological investment. Looking at this, Garment Technology Expo (GTE) is being organized in Noida Expo center providing all garment making technologies under one roof. The largest industry show in the subcontinent, GTE – Garment Technology Expo 2023 Delhi/NCR is on the threshold of its 34th edition, which will be held from July 21-24, 2023 at India Expo Center & Mart, Greater Noida.
The exhibition is spread over 16000 square meters and will cover 3 halls. This is South Asia's most comprehensive garment technology expo showcasing anything and everything related to garmenting. GTE Delhi/NCR International is considered the best launchpad for introducing innovations, technology upgrades, new materials, processes and services. The four-day exhibition is being organised by Garment Technology Expo Pvt. Ltd with the support of Gujarat Garment Manufacturers Association (GGMA) and Garment Exporters Association of Rajasthan (GEAR).
Ambrish Chopra, Director said "This time GTE Delhi/NCR is held at the new venue, India Expo Centre & Mart, Greater Noida, which is a world-class air-conditioned and wi-fi enabled venue spread over 58 acres with sufficient Parking Area. It is well connected with Delhi through 8 lane expressway and metro. India Expo Center is among the world's best when it comes to hosting exhibitions and conferences. We are also going to have shuttle bus service from Noida City Center Metro to the venue for the visitors."
The B2B Expo provides a single point meeting ground for the garment manufacturers and technology providers to discuss and source latest technological development in the industry under one roof. The growth of the expo in terms of the increasing number of new participants from across the globe and the increase in overall size of the exhibition speaks for the fruitful & appreciable role played by GTE for upgrading the apparel industry in Delhi/NCR and nearby states like Haryana, Uttar Pradesh, Rajasthan etc.
Ricky Sahni, Jt. Managing Director said "GTE has always been an integral business platform for technology suppliers to launch new technologies and equipment. This edition of GTE Delhi/NCR will have all major brands from across the globe; over 550 brands from 200 companies are going to participate.
The show will be covering all segments of knitting and garment manufacturing technologies including, CAD / CAM, Spreading & Cutting Machines, Sewing Machines, Laundry Machines, Garment Dyeing Machines, Finishing Equipment, Fusing Machines, Embroidery Machines, Printing & Digital Textile Printing, Quilting Machines, Knitting Machines, Software Solutions, Spares & Attachments, Accessories & Trims, Testing Equipment, Dyes & Chemicals.