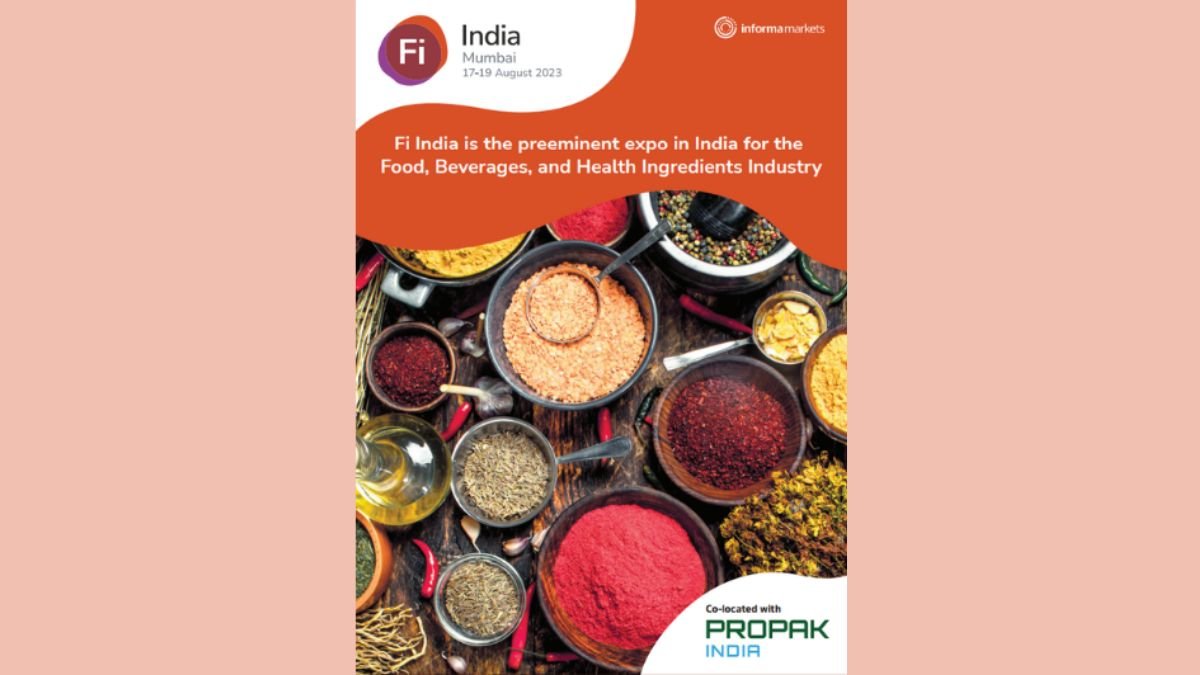 Food Ingredients India and ProPak India set to add Impetus to India's Dynamic Food and Packaging Industry
Mumbai (Maharashtra), 11 August: Informa Markets in India, India's leading B2B event's organiser, is all set to bring in the 17th edition of the Food Ingredients (Fi India) along with the 5th edition of collocated ProPak India to Mumbai this year at Bombay Exhibition Centre from 17th August – 19th August 2023. The dynamic expos serve as the ultimate B2B platform, bringing together the food, health, packaging, and processing industries under one magnificent umbrella. Fi India presents an unrivalled opportunity to source premium ingredients and the latest innovations in the market to cater to evolving consumer demands and industry requirements. At the same time, ProPak India unveils a world of state-of-the-art processing machinery and packaging solutions with an extensive product range, including packaging materials, machinery, equipment, labelling solutions, automation technologies, and more. 
The Fi India expo is expected to draw 200+ exhibitors, 1000+ brands. While Propak, in its 5th year is expected to have 300+ brands from key companies.
The exhibitions enjoy strong support from esteemed industry associations, including the All India Food Processors' Association (AIFPA), Association of Food Scientists & Technologists (INDIA) (AFSTi Mumbai Chapter), Health Foods and Dietary Supplements Association (HADSA) and Chamber for Advancement of Small and Medium Businesses (CASMB), Indian Flexible Packaging & Folding Carton Manufacturers Association (IFCA); Authentication Solution Providers' Association (ASPA); SIES School of Packaging; Indian Institute of Packaging (IIP), and Packaging Industry Association of India (PIAI).
Speaking on the announcement of Fi India and ProPak India, MrYogesh Mudras, Managing Director, Informa Markets in India, said, "The food ingredients market in India is thriving, driven by a diverse culinary heritage and increasing consumer demand for high-quality, innovative, natural, and organic ingredients. In parallel, the food packaging industry plays a crucial role in ensuring food safety and hygiene. With rising concerns, there is a growing need for efficient, technologically advanced packaging solutions that preserve product integrity and prevent contamination. The industry is also witnessing a shift towards eco-friendly materials and embracing recycling and waste management practices. Together, these sectors contribute to India's vibrant food industry, catering to consumers' evolving preferences and regulatory requirements."
"We eagerly anticipate the upcoming editions of Fi India and ProPak India, as they hold great promise for industry professionals. These exhibitions provide a unique platform to showcase innovations and gain valuable insights into the dynamic food and packaging industries. The primary goal this year is to harness India's abundant and diverse raw material base for the food processing industries, the market which is expected to reach $470 billion by 2025. We strive to address the industry's demand for sustainable packaging solutions by showcasing the latest innovations. We eagerly anticipate the industry's support in making this event another resounding success, further advancing the sector's growth and development." He further added.
This year's ProPak India expo will not only highlight the latest trends but will also place a strong emphasis on sustainability and eco-friendly packaging practices. The introduction of the "sustainability square" as a dedicated area within the event demonstrates a clear commitment to addressing the pressing need for sustainable packaging solutions. ProPak India will also include conferences, seminars, technical workshops, and B2B Meetings between buyers and sellers.
The Fi India expo will highlight food trends, including sugar-free, gluten-free, fortified, protein-packed, millet-based, vegan options, Indian flavours, and sea-sourced superfoods. Healthier sugar alternatives like mushrooms and dates, plant-based protein, and fermented foods are popular. The focus is on natural ingredients, fibre-rich options, and promoting millets through the International Year of Millets initiative. Some of the features of the expo include – the 1st edition of Fi Awards, a Three-Day insightful Conference, an Innovative Product Showcase Zone, Live demonstrations and a FundQuest.