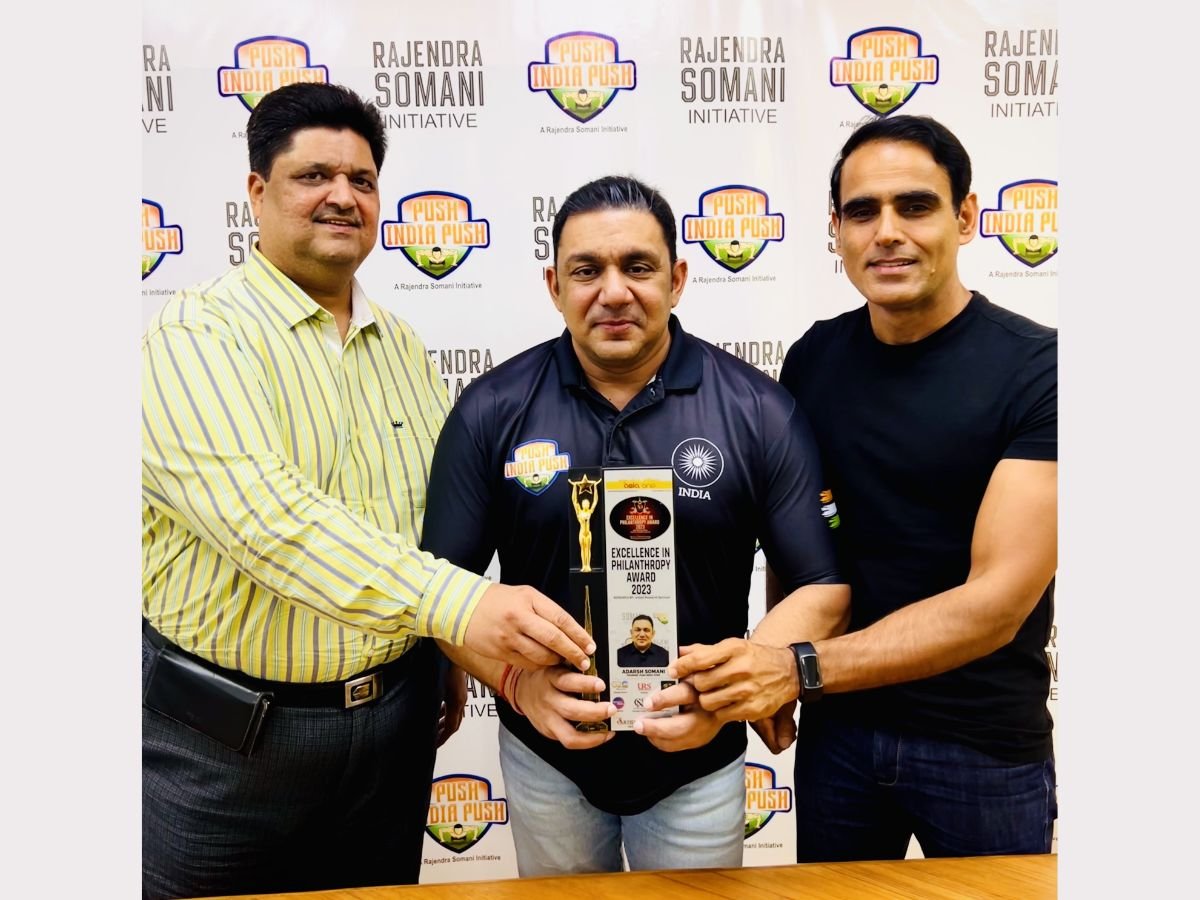 Excellence in Philanthropy 2023 awarded to Adarsh Somani. Push Up for A Cause!
New Delhi (India), July 19: Mr. AdarshSomani, Founder – Push India Push, was felicitated with the Excellence in Philanthropy 2023 award at the 20th Edition of the Asia-Africa Business & Social Forum on July 10, 2023, at The JW Marriott Marquis Hotel, Business Bay, Dubai organised by AsiaOne Magazine. Mr. AdarshSomani, a young and dynamic social entrepreneur, has been making a significant difference in the lives of underprivileged communities. Through his initiative, Push India Push, a one-of-a-kind, unconventional, and pioneering project aimed at improving the health of Indian men and women, he has played an instrumental role in providing healthcare services to these underserved communities.
His innovative approach encourages individuals to push beyond their limits, challenge societal norms, and contribute towards a better future.
Mr. AdarshSomani, a Commerce Graduate from Mumbai University, is a Managing Director of Oricon Enterprises Limited, part of Parijat Enterprises, which is in the business of manufacturing plastic packaging and metal closures and Real Estate. Apart from this, they also have a petrochemical unit at Khopoli, Maharashtra. He launched various products under the brand Smyle of which Mouth Ulcer Gel became the ace product, and as of date also, it is the only herbal mouth ulcer relief product globally.
Apart from businesses,the group has various charitable trusts and is associated with educational institutions through which the group carries out various philanthropic activities.
MrAdarshSomani is a Fitness enthusiast and holds a 2017 Limca Book of Records in Fitness in his name, and he is also a holder of the Taekwondo Dan 1 title from Korea.
Mr. AdarshSomani, Founder of Push India Push started a unique concept of push-up challenge in memory of his father Late ShriRajendraSomani, to take forward his Initiative to make India a fitter nation and unite the people of India through the medium of Sports to achieve the mission, Swasth Bharat. As a part of the RajendraSomani Initiative,the first push-up challenge was held at Shiv Chhatrapati Sports Complex, Mahalunge, Balewadi, Pune, Maharashtra, wherein more than 17000 participants registered to perform push-ups under one roof irrespective of age, sex, caste and religion. The age of participants varied in the range of 18 to 72 years, and even differently-abled also participated in the event.
Apart from this, an event was conducted at the NSG Mumbai Hub wherein more than 250 commandos performed push-ups.
An event was conducted at Bombay Gymkhana in the form of Inter Club push-up challenge on the occasion of its 148th Founder's Day. Members of 7 elite clubs of south Mumbai participated in this event which was held for a noble cause of raising money for the support of paraplegic soldiers of our nation. An amount of Rs.5.00 lacs raised through this event was donated to Paraplegic Rehabilitation Centre, Pune for the wellbeing, care and rehabilitation of our paraplegic soldiers who got injured while performing their duties to protect our nation and us.
Mr. AdarshSomani, Founder of Push India Push, has adopted this mission to make India a fitter nation, thereby achieving the mission of Swasth Bharat by not only taking care of physical health but also take care of spiritual and mental health, women empowerment, guidance and motivation to the youth and ensure that happiness quotient of our citizens improves.