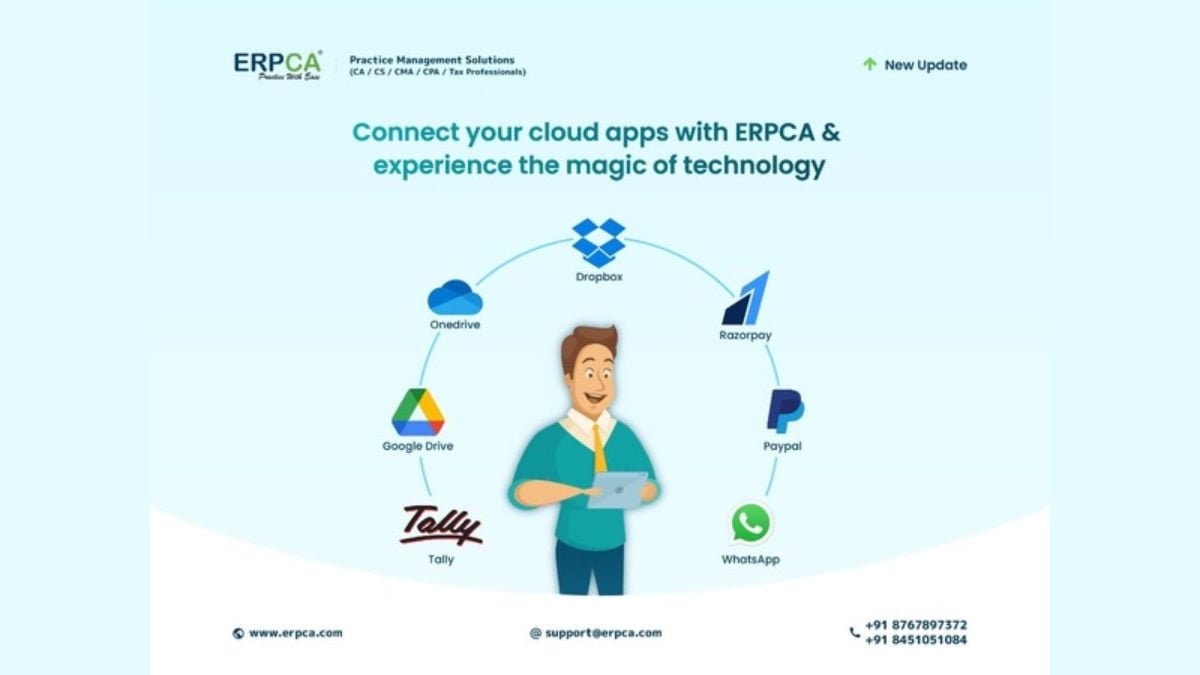 ERPCA practice management software adds WhatsApp integration for improved client communication
ERPCA offers WhatsApp integration besides Google Drive, DropBox, OneDrive, Tally
New Delhi (India), July 19: Digital solutions specialist and business software solutions provider Woodapple Software is now offering WhatsApp integration as a premium feature to ERPCA, its flagship practice and office management software solution for Chartered Accountants, tax consultants and related professional services firms. WhatsApp is the latest addition to a host of third-party integrations such as Tally, OneDrive, Google Drive, Dropbox, RazorPay and PayPal offered by ERPCA practice management software.
Integrating WhatsApp with ERPCA enables faster and more seamless communication for users with their clients and thus addresses one of their key pain points. It helps users to update their clients in real-time on task creation and updation, handle compliances better with bulk due date reminders, manage their finance function better with automated invoice copy & due date reminders, and enable easy reconciliation with automated receipts' copy.
"Our customers have implicitly and explicitly conveyed to us that communication gaps are a major stumbling block in their operating workflows, which in turn has serious implications for themselves or their clients. Taking this feedback on board, we are pleased to provide the WhatsApp integration as a premium offering," said SujeetKarn, Founder & Chief Product Architect of ERPCA. "Today, WhatsApp has become an indispensable communication tool even for business/professional use. We combine the power of this inexpensive, instant, and seamless communication within ERPCA so that customers can manage their practice better and get even greater value."
"Powerful third-party integrations are a key differentiator for us –we already offer integrations with book-keeping/accounting software like Tally, storage solutions like OneDrive, Google Drive and Dropbox, and payment solutions like RazorPay and PayPal. We are constantly striving to leverage the distinct features and capabilities of other products to make it easier and better for our clients' practice. WhatsApp is the latest addition to this list, but by no means is it going to be the last."
CA/ tax consultant firms interested in knowing more about the features of this proven practice and office management solution are invited to visit https://www.erpca.com to sign up for a free trial of ERPCA or request a demo.
About ERPCA
ERPCA is the flagship software solution of Woodapple Software, a business software solutions company. It is the most advanced and user-friendly office automation and practice management software suite for the niche community of Chartered Accountants, Company Secretaries, Tax Consultants and allied professional services firms. Adopted by over 6,000 users across India, its comprehensive capabilities include workflow and task management, employee/ resource management, client relationship management, billing management and advanced business analytics, to name a few. Fully cloud and mobile-app-based, ERPCA can be used in 9 languages on a Subscription-as-a-Service (SaaS) model. Users will also get world-class support through multiple channels to ensure seamless operation.