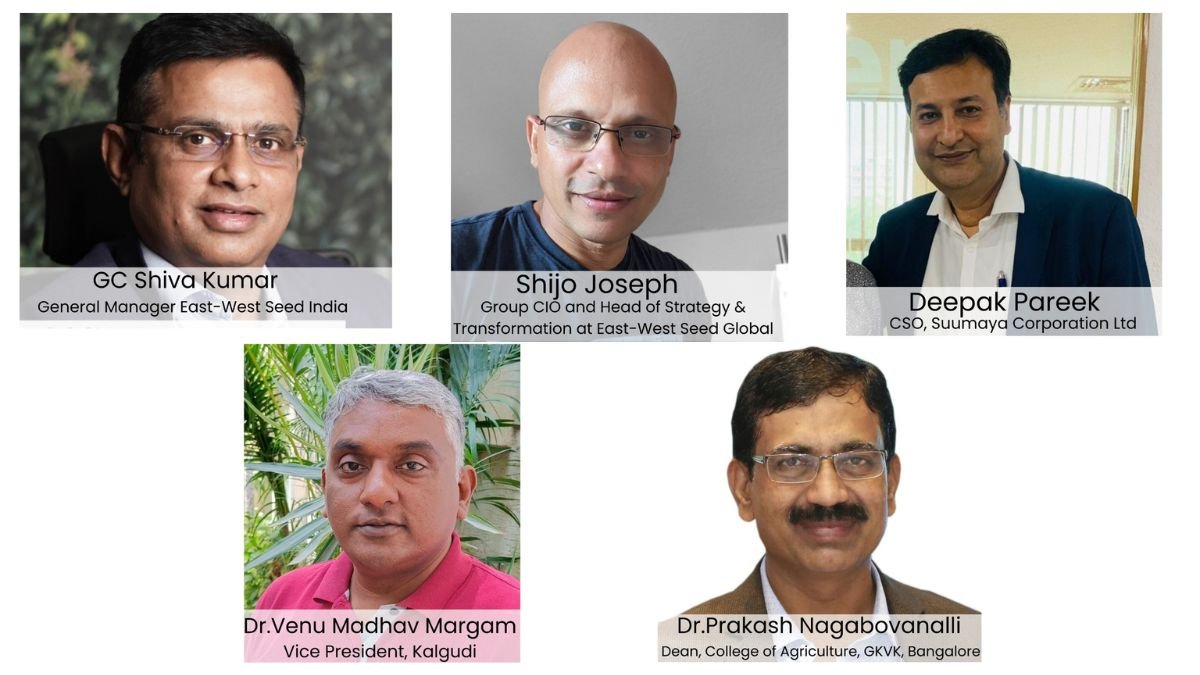 East-West Seed India, WTC, FICCI, and the Dutch Embassy organize a webinar on the Digital Agricultural Economy
New Delhi (India), September 6: East-West Seed India, World Trade Center, Shanshabad, FICCI, supported by the Embassy of the Kingdom of Netherlands, organized a webinar titled 'Digital Agriculture Economy – Propelling the New Growth Curve,' in which Deepak Pareek, CSO, Suumaya Corporation Ltd., Dr.VenuMadhavMargam, Vice President, Kalgudi, and Dr.PrakashNagabovanalli, Dean, College of Agriculture, GKVK, Bangalore participated. Shijo Joseph, Group CIO and Head of Strategy & Transformation at East-West Seed Global, moderated the session. Nearly 200 participants participated actively in the webinar.
Speaking about the webinar, G C Shivakumar, Country General Manager, East-West Seed India, said, "We have collectively envisaged this series of virtual webinars that aim to foster progressive thinking and dialogues around pivotal issues in Agriculture. The first in the series centered on the theme: "Digital Agriculture Economy: Propelling the New Growth Curve,' highlights the integration of advanced technologies, such as artificial intelligence, Internet of Things (IoT), and big data analytics, into the agricultural sector to increase productivity, efficiency, and sustainability. This transformative approach is reshaping the traditional agricultural landscape. By providing real-time data on soil health, crop conditions, and weather patterns, farmers can make more informed decisions. As a result, the entire agricultural value chain is impacted, paving the way for a sustainable future."
Dr.VenuMadhavMargam, Vice President, Kalgudi, said, "The power of digital has immense potential to revolutionize rural social commerce including benefitting small scale producers and rural women. Digital enablement, especially of rural collectives such as Farmers Producer Organizations (FPOs) and Women Self Help Groups (SHGs), is an effective means to reap collective benefits by achieving scale. Forward and backward market linkages through e-commerce can potentially decrease their operating cost and better price realization on their outputs, ultimately increasing their incomes significantly."
Prof. PrakashNagabovanalli B said, "The "Digital Agriculture Economy," is a dynamic and rapidly evolving sector that is revolutionizing how we produce, manage, and distribute agriproducts. We need to orient our students to be future-ready in digital agriculture technologies, which leverage data analytics, satellite imagery (image analysis), and sensors to enable farming. Farmers can now make data-informed decisions about inputs, soil fertility status, sowing/planting, irrigation, fertilization, and pest control. This leads to optimized resource utilization, increased crop yields, and reduced environmental impact."
Deepak Pareek, CSO of Suumaya Corporation Limited, said, "Digital technology empowers smallholder farmers, cultivating innovation in agriculture. It bridges knowledge gaps, boosts productivity, and transforms livelihoods. Embracing it, they reap a digital harvest of prosperity."
Shijo Joseph the Group CIO and Head of Strategy & Transformation at East-West Seed Global, who moderated the session, said, "Agro digitization revolves around Sustainability, improved yield, and reduced risks. Collective efforts by Value chain players could accelerate digitization."
East-West Seed India was awarded 'Empowering Vegetable Farmers MSME Brand of the Year' by a reputed industry platform awarded by the Hon'ble Minister of MSME, Shri Narayan Rane, in 2023. East-West Seed India has received recognition as a Great Place to Work.
East-West Seed is a global leader in the tropical vegetable seeds market with Four and a half decades of experience in breeding, producing, and delivering high-quality vegetable seeds. Founded by Dr. Simon Groot, winner of the World Food Prize 2019, East-West Seed is ranked #1 in the 2022 Global Access to Seed Index, South and Southeast Asia. which recognizes the commitment and performance in providing the World's smallholder farmers access to quality seeds. In 2020, it ranked #28 in Fortune's Change the World list of companies that are doing well by doing good.
East-West Seed has its headquarters in Nonthaburi, Thailand. The company employs over 3,500 people and has 17 R&D establishments in 7 countries. With exports to over 60 countries in tropical areas, East-West Seed serves nearly 23 million farmers around the world.