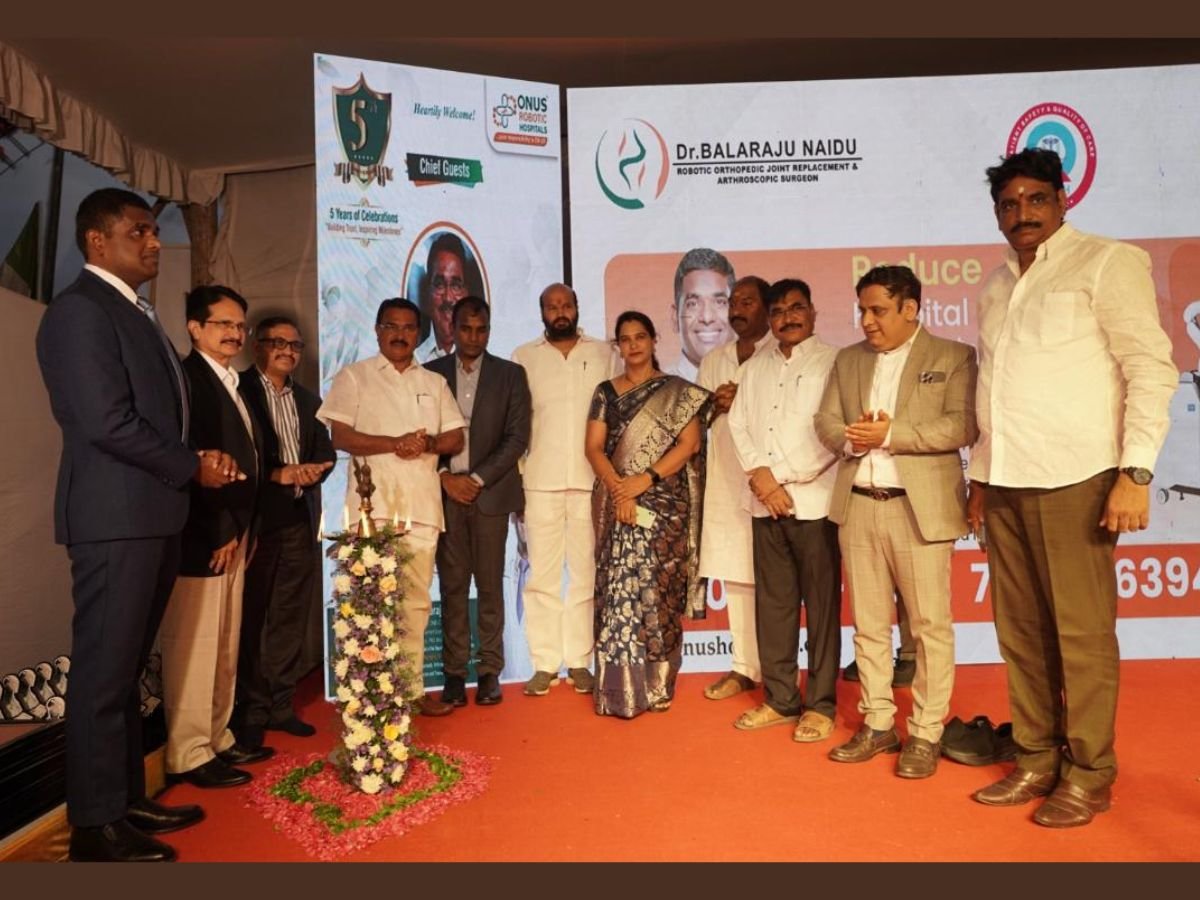 Dr. Balaraju Naidu Revolutionizes Orthopedics with Robotic Surgeries; ONUS Hospital Celebrates 5th Anniversary
Hyderabad (Telangana) [India], July 25: ONUS Hospital celebrated its 5th anniversary in the presence of esteemed guests like Sri Singireddy Niranjan Reddy, Minister for Agriculture, TS Govt. and Sri Jaipal Yadav, MLA, Kalwakurthy and Dr. Chandrashekar of Sakra Hospital on Sunday. Guests praised Dr Balaraju Naidu for his skills to revolutionize robotic surgeries at ONUS Hospital at Champapet, Hyderabad. Dr. Balaraju Naidu's vision for integrating robotics into orthopedic surgeries is a testament to his commitment to staying at the forefront of medical technology. As a highly accomplished orthopedic surgeon, Dr. Naidu has earned accolades for his exceptional skills and compassionate patient care. Now, with the introduction of robotics, he aims to further enhance precision, optimize surgical outcomes, and revolutionize the way knee replacement surgeries are conducted.
Prepare to witness a groundbreaking advancement in the field of orthopedic surgery! Dr. Balaraju Naidu, renowned orthopedic surgeon, is leading the charge in bringing cutting-edge robotics to ONUS Robotic Hospital's orthopedic department. With this pioneering initiative, Dr. Naidu and his team are set to redefine orthopedic care and elevate patient experiences to new heights.
The state-of-the-art surgical robot at ONUS Robotic Hospital is equipped with the latest advancements in medical technology. It utilizes advanced imaging and mapping capabilities, enabling personalized surgical plans for each patient. With unparalleled accuracy and dexterity, the surgical robot works collaboratively with Dr. Naidu and his team, allowing them to achieve superior alignment and implant placement during knee replacement procedures.
Patient safety is of paramount importance to Dr. Naidu and the entire medical team at ONUS Robotic Hospital. Before incorporating the robotic technology into practice, rigorous training and meticulous testing were conducted to ensure seamless integration with the expertise of the surgeons. The result is a seamless blend of human skill and technological precision, leading to safer surgeries and better patient outcomes.
ONUS Robotic Hospital believes in providing compassionate care that sets new standards in the medical industry. Dr. Balaraju Naidu's pioneering efforts to introduce robotics in orthopedics align perfectly with the mission to deliver world-class healthcare solutions. The benefits of this advanced technology are already evident as patients experience shorter recovery times, reduced post-operative pain, and improved long-term mobility. With Dr. Naidu's guidance and expertise, ONUS Robotic Hospital is committed to offering unparalleled orthopedic care that enriches the lives of our patients.