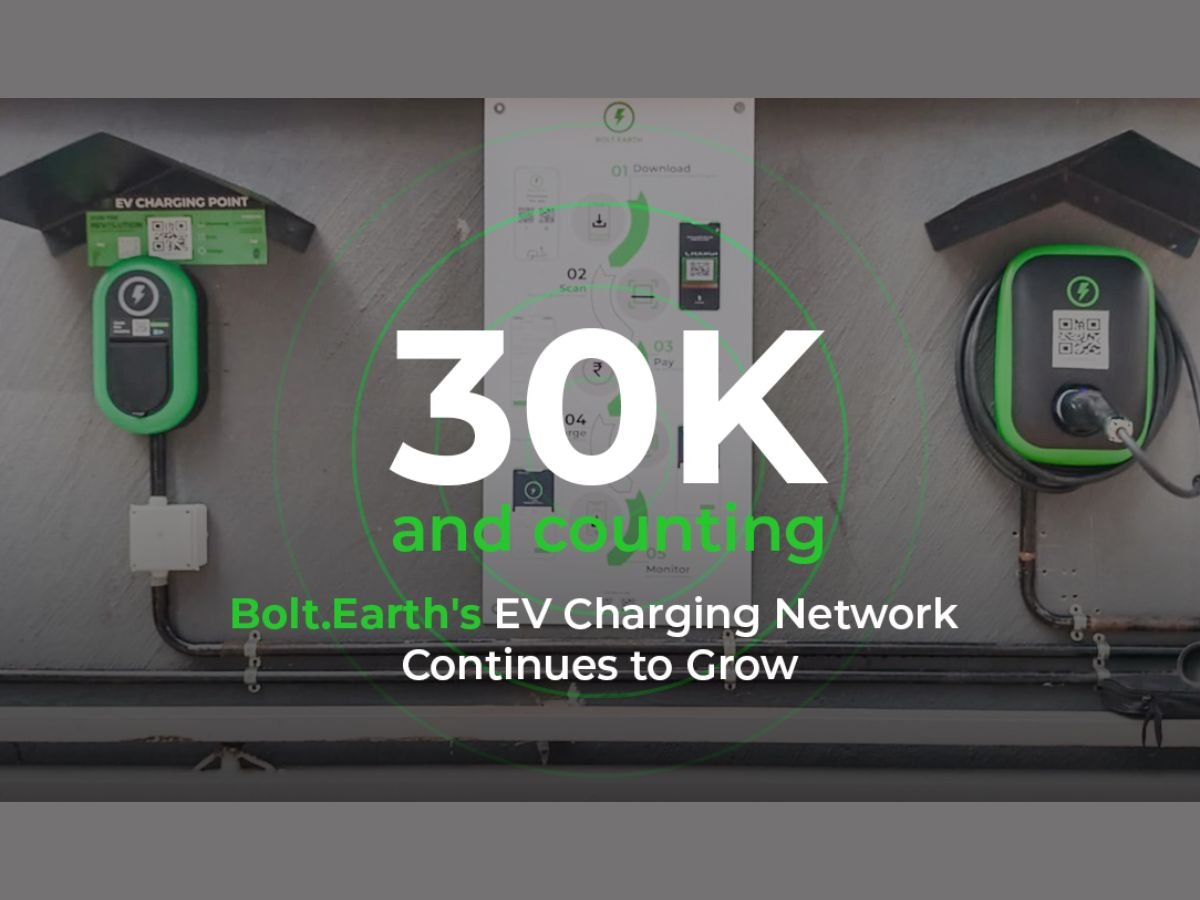 Bolt.Earth Powers E-Mobility Nationwide with 30K+ EV Charging Points
Bangalore (Karnataka) [India], August 4: Bolt.Earth, India's leading EV charging infrastructure provider, today announced that it surpassed 30,000 EV charging points on its charging network and is growing at around 500 charging points monthly. This milestone highlights Bolt.Earth's commitment to creating a strong EV charging infrastructure – to meet the surging demand for electric vehicles in India.
Bolt.Earth's Head of Strategy and Leadership, Mr. RaghavBharadwaj, commented, "Since its inception, Bolt.Earth has been committed to the stated mission of powering the EV Ecosystem in India. We use advanced analytics and data science to identify consumer-specific charging needs and strategically deploy charging points where they are most needed. Further, we are seeing rapidly growing utilization numbers MoM on our network which I believe comes down to our comprehensive range of tech-enabled services — including end-to-end installation support, 24/7 customer support, an integrated payment solution in our app, in-app navigation and booking of charging points, and opportunities for generating passive income, driving rapid adoption in both rural and urban centers."
Bolt.Earth's network provides EV charging points across cities, towns, commercial /residential buildings and highways, ensuring convenient access to charging points for all EV users. The company offers both slow and fast charging devices (3.3- 120 kW) along with a charger management system (CMS) dashboard that allows for effective tracking and monitoring of charging deployments. Bolt Earth's charging points are easy to install anywhere: in shops, garages, highway pit stops, residential apartment complexes, parking spaces, for fleets, and so on.
So far, Bolt.Earth's charging network has fulfilled the needs of more than 150,000 users across India by dispensing over 1000 MWh of energy. This includes 4,700 charging points in Bangalore, 3,500 in Delhi NCR, and 2,800 in Hyderabad, and other tier 1, tier 2 and tier 3 cities in India. A set of strategic collaborations with other key players within the EV space has enabled this widespread growth.
Furthermore, Bolt. Earth aims to install over 1 lakh charging points within the next 18 to 24 months across private, shared and public sectors.
Bolt.Earth has partnered with government agencies, like the Hindustan Petroleum Corporation Limited (HPCL), Delhi Metro Corporation (DMRC), Bengaluru Metro Rail Corporation (BMRCL), and Indian Oil Corporation Ltd. (IOCL); corporate entities like Cyient and LTI Mindtree, real-estate builders like Prestige, Sobha&Divyasree, among many others to provide charging solutions tailored for 2, 3 and 4 wheelers.
The company has reached a big milestone of installing over 30,000 charging points across rural and urban areas in India. In addition to that:
They give users an opportunity to generate passive income
Bolt.Earth lets EV and non-EV users earn passive income by marking their charger "Public" and sharing it with other EV users. This makes Bolt.Earth charging points a fantastic investment opportunity for those seeking an additional source of income.
They enable a Peer-To-Peer charging network
Bolt Earth's Peer-To-Peer Charging Network enables EV owners to connect and share their charging points with more people, helping build a strong EV community. With this approach, users can easily find available charging spots, making it easily accessible and convenient for all EV users.
Bolt.Earth has been on a rapid growth trajectory since its inception in 2017. The company has achieved remarkable sustainability milestones, including:
Over 440,000 EV charging sessions, which have prevented the consumption of over 523,000 litres of petrol and 480,000 kgs of CO2 emissions.
Over 2 million electric kilometers travelled by Bolt.Earth users, who plug into the network approximately every 62 seconds
As India transitions to an electric future, Bolt.Earth is committed to providing a robust and ubiquitous charging infrastructure. The company will continue to facilitate this transition by implementing its dedicated nationwide network of IoT-enabled smart EV charging points.
About Bolt.Earth Bolt.Earth is on a mission to push emerging markets toward cleaner mobility. Today, the company is India's largest electric vehicle (EV) charging infrastructure solution provider, with 30K+ charging points and growing! Bolt.Earth offers charging solutions for individuals, businesses, real estate companies, fleet operators, and the government. For more information on Bolt.Earth