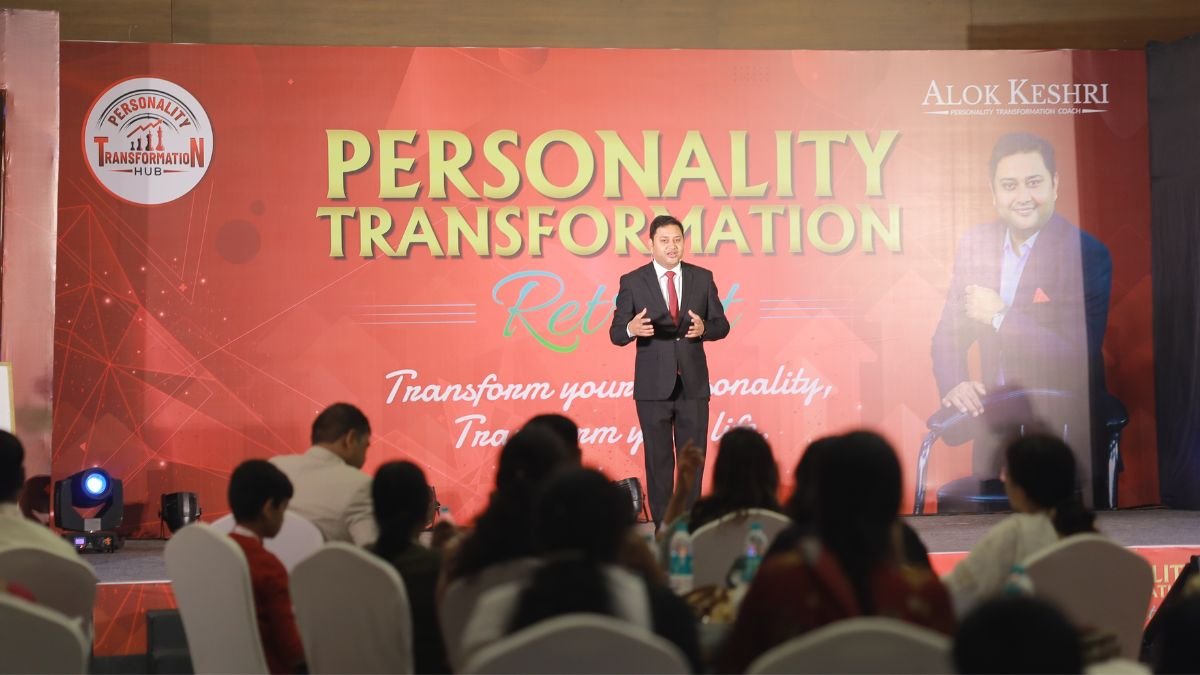 AlokKeshri Hosts Unforgettable Personality Transformation Retreat 2023 in Bangalore
New Delhi (India), August 11: Bangalore witnessed a transformational extravaganza as AlokKeshri, the renowned personality transformation coach and an International Motivational Speaker, hosted the highly anticipated 'Personality Transformation Retreat 2023' on August 4 and 5. The event was designed exclusively for his learning community (Personality Transformation Hub) of Working Professionals, Doctors, Lawyers, Business Owners, Entrepreneurs, teachers, and their family members. It received an overwhelming response and left participants with an ignited passion for achieving their dreams.
The 'Personality Transformation Retreat 2023' had a clear mission: to equip attendees with a millionaire mindset, empower them to build their vision and mission, and cultivate abundance in health, wealth, career, spirituality, Money and relationships. The two-day event aimed to foster personal growth, self-discovery, and transformation, while instilling a winning mindset for success.
AlokKeshri, with his expertise and contagious enthusiasm, guided participants on a journey of self-discovery and empowerment. The event offered a unique opportunity to break free from limitations, redefine one's path in life, and create the life of their dreams.
"This retreat was all about creating meaningful relationships, unlocking the potential within, and conquering life's challenges," said AlokKeshri. "I'm truly humbled by the tremendous response we received from our community members. Our collective energy and determination will undoubtedly lead to remarkable success in our personal and professional lives."
The retreat was structured around various activities and workshops catering to the attendees' diverse needs and aspirations. One of the focal points was helping participants identify their core values, set meaningful goals, and devise a strategic game plan for achieving them.
Throughout the event, distinguished speakers, trained by AlokKeshri himself, shared their remarkable success stories and the invaluable lessons they learned. Their journeys were a powerful source of inspiration for the eager audience, motivating them to reach new heights in their personal & Professional lives.
The two-day extravaganza was action-packed and filled with non-stop energy. From music and dance performances to a captivating magic show, participants were treated to a truly immersive and memorable experience. Awards and trophies were also presented to recognize outstanding achievements and celebrate individual growth.
On the second day, attendees engaged in powerful sessions on 'Knowing Your Current YOU,' 'Millionaire Vision Building,' and 'Transform Your Personality to Transform Your Life.' The day culminated in a viral video challenge, allowing participants to showcase their newfound skills and confidence.
AlokKeshri, who has over 14+ years of experience in Personal Development, Personality Transformation, and Motivational Speaking, has inspired more than 300,000+ individuals worldwide. His expertise has transcended borders, training individuals from 2 continents, including India, USA, Canada, Europe, UAE and Latin America.
"It is a pleasure to have 90+ members together under one roof. They came from across India, and the learning and energy have been phenomenal," said AlokKeshri. "Our goal is to provide our members with the tools and resources they need to accelerate their success in their personal and professional lives and transform 360 degrees, and this event was the perfect way to do just that."
The Personality Transformation Retreat 2023 was undoubtedly a resounding success, leaving participants with renewed purpose and determination to create their desired life. AlokKeshri's impact as a transformational leader reverberates throughout India's residents, inspiring individuals to unleash their true potential and thrive in every aspect of life.
AlokKeshri's powerful vision is to extend his help to every household, where each family member is equipped with an unshakable magnetic personality. His transformative approach leads to exceptional growth in both personal and professional realms. By dismantling limiting beliefs, his vision instils boundless confidence and empowers individuals to unleash their full potential. This holistic change doesn't just enhance lives—it creates a ripple effect of positive transformation, radiating through families, workplaces, and communities. AlokKeshri's mission resonates with anyone seeking meaningful, lasting change to create massive transformation.
Personality Transformation Hub by AlokKeshri is a comprehensive personal development encompassing money, health, wealth, career, relationships, and spirituality. AlokKeshri believes in "Transform Your Personality, Transform Your Life". He brings his vast expertise to the fore with a mission to unlock individuals' latent potential. His impactful guidance resonates across various facets of life, enabling individuals to shape a more fulfilling existence. The Personality Transformation Hub isn't just a concept—it's a reality shaped by AlokKeshri's vision. It's a place where holistic growth and empowerment converge, encouraging a brighter, more enriching journey towards self-actualization."
In case you are also looking to build an unshakeable magnetic personality and transform your personal and professional lives, then you can register for the free masterclass conducted by AlokKeshri at https://personalitytransformation.com/ or https://personalitymappingmethod.com/