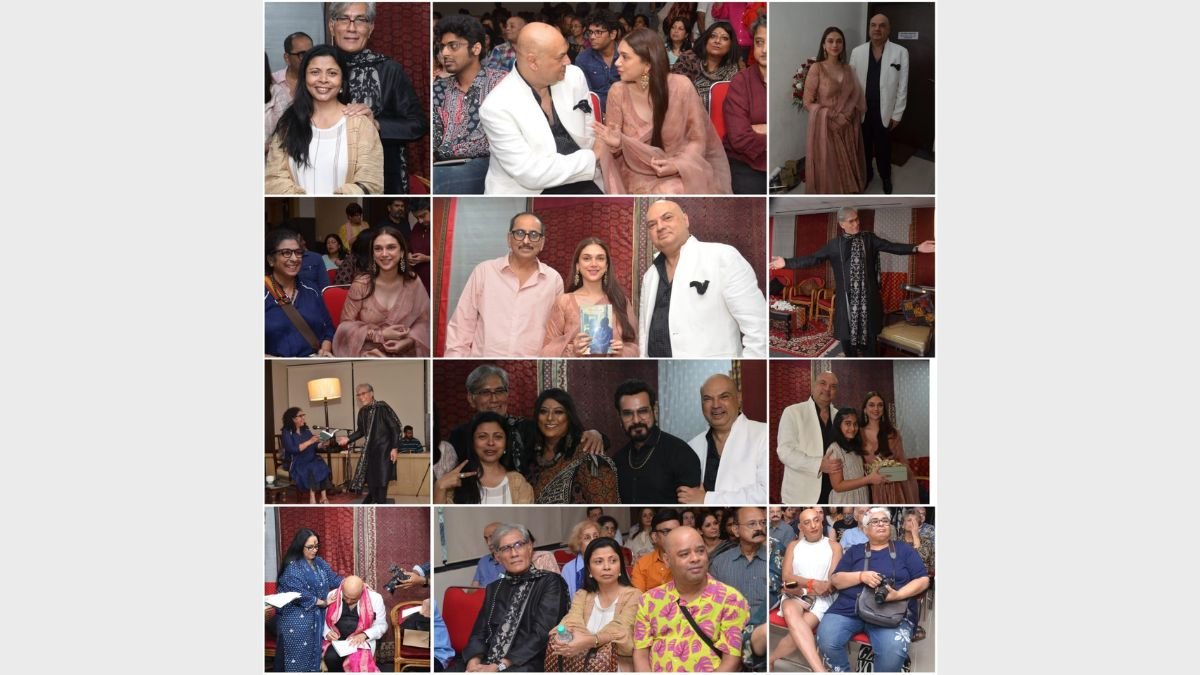 AditiRaoHydari unveils Joy Bimal Roy's book –Ramblings of ABandra Boy, Denzil Smith, NanditaPuri Read, Dinesh Raheja in Discussion
New Delhi (India), September 5: The popular view is thatthe 68-year-young Joy Bimal Roy should have authored a book a long time ago.This comes as no surprise, as Joy has managed to convert people who otherwisewouldn't touch books with a barge pole into voracious readers, through hiswritings that turn everyday people into stars, and stars into everyday people.
Named Shankar at birth, the only son of notedIndian filmmaker Bimal Roy, Joy was given a name that he proclaims perfectlymatches his personality. Known for his joie de vivre, Joy sparks good cheerthanks to his characteristic, impromptu wit and big-heartedness.
The Beginnings
A topper in English at the Bombay Scottish School,Joy was raised on books written by British authors – Enid Blyton, AgathaChristie and P.G. Wodehouse. You will detect a Wodehousian influence in the bonmots and irony that lace his written works.
A man of many talents with a creative bent ofmind, Joy has not followed a traditional career path, yet he has not been idle.He entered the film world as an assistant to film director ShyamBenegal andeven directed two documentaries: 'Remembering Bimal Roy' which critiqued hisfather's films and 'On The Threshold' which delved into the world of mentallychallenged children. He worked briefly in the music industry as an executivewith HMV before pursuing his penchant for design – creating beautiful homes,dream weddings and elegant clothing – his recent work being 'Touch of Joy' – asareeupcycling initiative for a social cause.
A resident of Bombay, but a true Bengali at heart,this Babu-moshai will spoil you with his generous hospitality and delectableBengali fare.
The Book – Ramblings of a Bandra Boy
Unveiled at St Paul's Institute of Communication,Bandra by AditiRaoHydari, Ramblings of a Bandra Boy is a delightfulcompilation of Joy Bimal Roy's articulate Facebook posts that recall episodesfrom his daily life, both recent and past. Each incident is a vivid descriptionof an everyday event that blends the extraordinary and the mundane in a mannerthat entertains.
Joy brings to life a cast of characters fromcelebrities to household staff, who scheme and hatch plots, trying to present aparticular version of themselves to the world but eventually revealing theirtrue natures. Joy is very much part of these happenings, sometimes playing themain character who extricates himself and flees the scene and at other times anextra who gets roped into the action.
The book promises to amuse you with its moments ofhappiness and causes you to reflect about life through narratives of despair.
One of the popular characters is Joy's Man Friday,J. Joy and J. engage in a battle of wits as Joy wants somethingdone his way but J. wants to do it his. Joy produces a recipe and asks J. tofollow it. J. completely ignores Joy, finding a similar recipe online which isan improvisation on the original. Joy admits defeat but another round ofjousting ensues.
There is a streak of sadness too in the stories,as Joy recalls his childhood and his love for his mother and the house in whichhe and his siblings had a joyful childhood. Joy mentions his struggles withmental health and his dislike of studying and the world of business.
Juicy stories
As an insider in the film industry, being the onlyson of India's greatest film maker – Bimal Roy, Joy has witnessed andinteracted with many legends of the film world. He recounts juicy storiesusing discreet codes and it is fun to puzzle out who some of the key figuresare.
Joy is not just a gentleman about town, he is aflâneur and an observer of the world which he so naturally translates into hisnarrations and portrayals of characters in Ramblings of a Bandra Boy. When youread Joy's wry pieces, a smile breaks onto your face before it graduates to agrin, and finally a chuckle. This book promises to be yet another addition tothe many milestones scaled by the reticent Joy.
The Launch
The book launch at the hands of AditiRaoHydariwill see an introduction by Neale Murray, followed by the Screening ofBimal Roy Doesn't Live Here Anymore, with readings by Denzil Smith and NanditaPuri followed by Joy Bimal Roy in Conversation with Dinesh Raheja. Celebritiesof the likes of IlaArun, Vinta Nanda, Samir Asgarally among many others willgrace the function.
Ramblings of a Bandra Boy is Joy's 'KherorKhata'– a traditional cloth-bound notebook with notes on a segment of India's uppermiddle class society. It's to be savoured when sitting in a comfy chairwith a cup of tea and Bengali 'jolkhabar' and 'mishti'.
Yours to pick up a copy of Ramblings of ABandraBoy by Joy Bimal Roy, priced at an introductory Rs 500, the book is availableat Title Waves, Bandra. And enjoy moments of the masterpiece.